By Chelsea Royer

Very often, ringing in the New Year is considered the "last hurrah" as people focus on their New Year's resolutions. At the top of many lists is the goal to "lose weight" and "eat healthier." These resolutions start off like the bang of a party cracker as enthusiastic, determined participants flood the gym and avoid fast food restaurants. For one week, or maybe three, the writers of these resolutions stick to their plan before slowly fizzling in their dedication. Either lack of results, lack of time, or lack of enthusiasm saps the joy out of the tasks and suddenly the gym is back down to its regular attendees. Failure breeds disappointment, hopelessness of ever achieving the written goals, and guilt for giving up.
Kellie Dalan owns the Monte Fitness Center with her husband, Garrett, and spends much of her life at the gym. Leading over ten workout classes a week, even through her last pregnancy, her dedication may be intimidating to many. Sit down and chat with her, however, and the intimidation fades as she gets real about life, fitness, and meeting personal goals.
Kellie and Garrett didn't have grand plans to own a gym, but when the opportunity presented itself, the process from hearing about it to purchasing the business took only three weeks. May 2008 was a challenge as Kellie and Garrett adapted to a major life change while still being fairly new to the community. Though Kellie had played college basketball and always had a focus on fitness, she was presented with new hurdles in the form of being the only available class instructor for many of the fitness center's programs. "You just do what you have to do and don't really think about it," explains Kellie, who is often at the gym with one or more of her three children. Despite her dedication and love for what she does, Kellie is not obsessed.
"Exercising should be mostly about fitness and health, not appearance," she explains. "We are constantly bombarded with unrealistic images of fitness models and that's not what we're about." According to Kellie, focusing on health and well-being is more about reaching old age still fit, capable, and kicking.
"Beauty fades," says Kellie. "You can't help that." Most of us would readily agree with Kellie. We want to be fit and healthy. We want to be active, energetic, and capable. But where do we start when it's so easy to burnout and let life take over?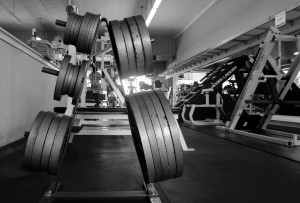 Kellie has some tips for us as we give it the ol' new years effort.
"Start moderate," insists Kellie. "People start too strong, too fast. Give yourself permission to start slow. It breaks my heart to see burnout. Don't resolve to cut out all sugar or to workout every day of the week. Start with one thing and implement that. Take it one day at a time and set realistic goals for yourself."
Don't go on a diet. "I hate diets and fitness fads," says Kellie. Diets are about quick results and once they are over, people tend to return to old habits and gain all the weight back again. Make lifestyle changes, slowly, by making good decisions every day. "If you fall off the wagon at lunch, get back on in time for dinner."
Don't look for quick results. "If it took you years to put on the weight you have now and if you haven't been exercising, it isn't going to come off quickly." It's going to take hard work and diligence and Kellie recommends giving yourself permission to take time to shed pounds and meet your goals.
Balance diet with exercise. "You have to have a balance between nutrition and exercise. You can max yourself out at the gym and undo all of your hard work in twenty minutes with what you eat. Educate yourself on what is healthy."
"Find what you enjoy and do it. Just get active!" Whether that's running, gym equipment, or a group fitness class, there are a plethora of options to get you moving.
Trick yourself into good habits. "Be honest with yourself about your downfalls. What is your excuse? If you snack after dinner, brush your teeth with the kids…no one wants to eat chocolate right after brushing their teeth. If it's difficult to get out of the house, get a dog. If you won't walk or run for yourself then do it for the dog."
Kellie recommends that you cut yourself some slack. Don't decide after a few slip-ups that the effort isn't worth it anymore or feel so guilty that you quit. Keep persevering and after enough time, you will see results.
Kellie and Garrett's perspective on health and fitness makes their gym a center of community activity. With an effort to keep membership, bootcamps, and personal training affordable for everyone, it seems there is always a buzz of activity at their gym. They offer upwards of 15 classes per week on everything from yoga to zumba and kickboxing.
Kellie has her own goals for 2015 and that is to help you become more capable of meeting your goals. She is working on becoming a certified Nutritionist, which will enhance her already informative personal training sessions. Since the Monte Fitness Center is already maxed out on classes and programs, her focus will be more on community involvement and the education of health and nutrition to gym members – this includes children as well as adults. As always, the Monte Fitness Center will continue to be a safe environment for people of all shapes and sizes because, according to Kellie and Garrett, every body matters.
210 South Main Street in Montesano
360-249-0073
All photos courtesy Monte Fitness Center.