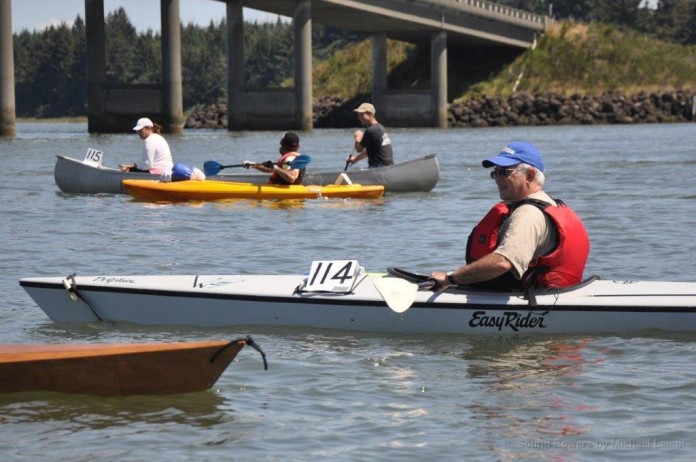 By Douglas Scott

Water is an important part of life here in Grays Harbor. Whether it is falling from the sky, blowing in sideways off the surf, or under your boat as you explore the rivers, estuary and lakes around the region, we all have a connection to the moisture that creates and sustains life.
For many of us, we take accessing the local waters for granted, but one local family has embraced it for decades, organizing and directing events to encourage families, friends and individuals to get out and paddle the majestic waters of Grays Harbor.
For 20 years, Vern and Janet Heikkila of Westport have been involved with the Elk River Challenge, highlighting an area that many quickly pass on their drive to and from Westport. The Heikkilas, who have been married for over five decades, are a few of the friendliest people in Grays Harbor, allowing participants of the event to camp at their place free of charge. Humorous, passionate and kind, the Heikkilas are yet another example of people who truly represent the spirit of the community.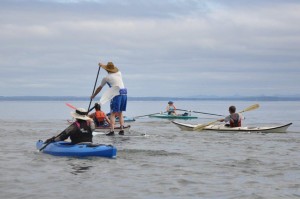 Vern took some time out of his director duties to share some of his background in paddling, as well as to explain why the Elk River Challenge is such a great event.
"It's a great way to see and enjoy the pristine Elk River estuary," Vern explained when asked about the area. "It is a beautiful part of Grays Harbor that many residents never see."
Vern should know about pristine waterways. He has been rowing and paddling since he was a kid and has been competing in open water races for a quarter of a century, including organizing and directing the Elk River Challenge with his wife for the last 20 years.
In the area, Vern says his most memorable moments were when he spotted wildlife from his boat. From elk, deer, otters, an occasional seal, ducks and other birds, to the rare bear sighting, the Elk River estuary is full of natural beauty both large and small.
This event has two different races.  Choose either a three-mile or seven-mile course. Aside from the four miles, there isn't much difference in the route. The races start at the same time, with the turn-around location coming much faster for the shorter race. The Elk River Challenge is one in a series of races around Western Washington sponsored by Sound Rowers & Paddlers.
"The Elk River Challenge is a fun competitive event for human-powered craft only. This includes kayaks, canoes, rowboats, rowing shells, pedal boats, and paddle boards," Vern said. "Rowers and paddlers of all ages are welcome. There is a division for each boat type and awards in all divisions. There are motor boats patrolling the course."
Seeing the experts out on the water is something that the Heikkilas recommend everyone experience. The race, according to Vern, is not just for experienced racers. Attending and participating in the event is fun since it is full of watercraft of varied sizes and derivations, manned by paddlers of all abilities.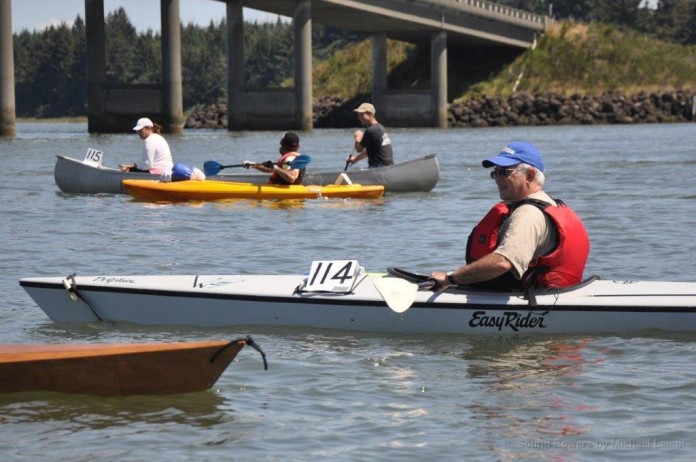 When asked what participants and the audience will hopefully get out of the event, he replied, "I hope they gain an appreciation of the many types of boats and the fun that everyone has, no matter what speed they travel. And there's always the tasty post-race refreshments!"
If you are interested in participating in the event, all you need is a human-powered boat, basic boating skills, a life vest, a whistle and $10 for the entry fee. Renting a kayak, canoe or SUP will not be a choice at the event, so make sure you either rent elsewhere or bring your own.
The event is scheduled for Sunday, July 26, but those looking to explore the area a day before are encouraged to come out on Saturday. Lodging is available in Westport. Those looking for a cheap alternative can camp at the Heikkila's for free, with their permission, of course.
Events like the Elk River Challenge are a part of our community's growing heritage and continuing legacy. Vern and Janet Heikkila have dedicated a large portion of their lives giving back to the community, and this event is yet another shining example of the great people that they, and many others around the community, are.
If you are looking for a fantastic way to connect with great people, get a good workout, and enjoy one of the overlooked sections of Grays Harbor, head out to Elk River Sunday, July 26.
20th Annual Elk River Challenge
Sunday, July 26, 2015
Registration and start at Brady's Oysters on Hwy 105, 16 miles SW of Aberdeen
Registration – 8:00 a.m.
Pre-race Meeting – 9:30 a.m.
Race Start – 10:00 a.m.
More info: 360-268-9712 and http://soundrowers.org/wp/race-schedule/elk-river/
Directions: https://goo.gl/maps/o4Cgp