By Chelsea Royer

I remember the day my little brother was born and how I couldn't wait to hold little sibling number four in my arms. The entire family glowed as we passed baby Joel around and oggled over his little fingers. But when we looked at his toes, we knew something was wrong: there were only nine.
What we assumed was a mere abnormality would eventually be revealed as something far more serious. Joel was missing the fibula bone in his right leg. As Joel grew and began to pull himself up on the living room furniture, it became increasingly obvious that his right leg was growing at a much slower rate, and he had very little stability in his ankle.
My parents were presented with a devastating decision: put their little boy through multiple surgeries up into his twenties or amputate.
After consulting with multiple doctors and specialists, my parent's decided to have Joel's right foot dismantled at the ankle. At one-year-old, Joel was incredibly mobile and would have been walking everywhere if it hadn't been for the cast that wrapped around his waist and covered his leg for weeks. Once he finished healing, Joel was fitted for his first prosthetic limb.
I'm pleased to say my parents made the absolute best decision for Joel. Today, it looks like the amputation occurred mid-shin, but most people have no idea Joel wears a prosthetic unless he is in shorts or at the swimming pool. He's turning 13-years-old this month and he is the most athletically inclined person of the family. He played on a community soccer team last year for the first time and loved it. "My biggest challenge," says Joel, "is trying to keep up with the other kids. It's hard because my prosthetic doesn't have an ankle."
Joel needs adjustments two to four times a year and a new prosthetic about every year-and-a-half. Where he has every right to complain or feel bad about his struggle, Joel is one of the most positive people I know. It comes across as morbid to people outside of the family, but Joel's "stubby" is often a source of humor. I've lost count of how many times Joel has done his pirate imitation or mimicked a footless character from television. "I just had to learn not to give up and to suck it up," Joel says with a shrug. "I feel most self-conscious when swimming because I have to take my prosthetic off. Everyone stares."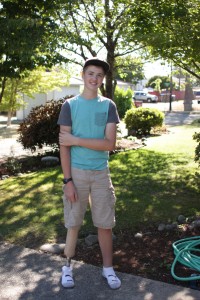 As long as his team comes together, Joel hopes to have a repeat soccer season this fall. "I really enjoy the sport and the competition. Running is the hardest part because I am in pain at the end of the day. Speed is challenging for me," says Joel. His coach, Jim Reynolds, says, "Joel is easy to speak positively about. He is hard working and never complains. I admire that he doesn't allow himself to be held back by his disability." Regarding soccer in general, Jim is hoping to put together another team this year, if he can get enough kids interested. Having coached for more than 11 years, Jim believes soccer is a great sport for kids of all ages — and abilities — to learn. 
For Joel, accomplishing things in the real world has been an everyday battle, even on the days he doesn't think of it as such. Maybe that's one of the things I admire about him the most: he's constantly challenging himself. Whether that's trying a new sport, being willing to take off his prosthetic in public, or develop his art skills, Joel is always learning. "I pray about it and don't give up. Don't ever think that you can't do something," advises Joel. "Be realistic about your limits, but don't ever say the words of 'I can't do it' over and over in your head."
Joel's secret, I believe, is gratitude. "There are others worse off than I am and I have to recognize what I have. I'm lucky my disability isn't worse like it is for so many people."
I know I'm his sister and thusly entitled to be proud of him. What I didn't expect is for a little boy more than a decade younger than myself to be my hero.