Clean Streams and Memes (C:SaM) is a local grassroots movement removing garbage and recyclables from the riverbeds, shorelines, and creek banks in Grays Harbor. It is helmed by Chehalis-born, local resident Joshua Francy, a father and passionate outdoorsman. Since the unincorporated nonprofit association began in February of 2013, the group has had weekly cleanups on most every weekend. That's right – rain, or shine. In the last 18 months alone they have removed over three tons of material from our Grays Harbor waterways, all through volunteer efforts.
You may have seen Joshua out and about, pulling a bike trailer laden with cleanup materials. In researching this article it seemed every picture I found of him, he was outside. He and his partner Bryn Stolen recently welcomed their daughter Dea Stolen-Francy, and are now balancing their work lives and love of the outdoors with the wonderful role of being new parents.
One thing that really strikes me about Joshua is his positive attitude. Where others complain, he takes action in a very unassuming way. He is mild-mannered, friendly, and very direct. He started the group rather informally, by doing his own solo cleanup at Zelasko Park three years ago. After he posted pictures of the garbage he'd removed, a few locals expressed interest in doing the same. He started a weekly gathering at a new location, published these to Facebook, and hasn't looked back since.
"I started recording weights and itemizing the recycling at the beginning of 2015. I have hand-weighed over three tons in less than a year and a half. We also moved an estimated 16 tons of garbage from River Street last year. We have removed over 5,000 recyclable containers and 500 syringes from our watershed. Our group removes an average of 85 lbs of garbage, 12 lbs of recycling, five syringes, 47 plastic bottles, 24 cans, and 10 glass bottles per cleanup," notes Joshua.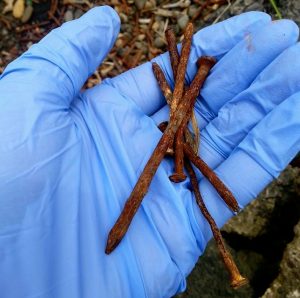 Astonishingly, Joshua puts together his cleanups every Saturday no matter the weather, and regardless of who else shows. Sometimes he has a crew of five or ten – and sometimes it's just him. In every picture posted online, people are smiling, even when it's raining. I asked him about his volunteers – who comes and what seems to be their motivation. He responded, "People who come to these have big hearts and a good sense of humor. Some want to atone for their past misdeeds to mend their hearts. Some fish, kayak, or hike. Some just enjoy nature and being part of it."
Many people might quail at the thought of really taking a close look at what ends up in our waterways. ("Every part of a syringe floats. I've removed syringes from the shoreline right next to where people were actively fishing.") But Joshua has a lot of faith in peope's ability to look further than their own discomfort in order to make the world a better place.
"We seem to be willing to handle a little risk to improve the areas we all share. Most people don't want to see their local areas trashed," he says. "I'm willing to do cleanups by myself, but I know how it feels to clean up an area by yourself and I will keep organizing this to make it easier for people."
I asked him about his group's long-term goals.  In the short term, he wants to continue to spread the word about the cleanups.
"Also, we'll work on cleaning up more of the garbage from River Street this summer, and find funding," he adds. "Long-term plans include getting better transportation. Kayak, canoe and boat cleanups would be a great way to get otherwise unreachable spots. I also dream of having a vegetable oil powered truck (or any "green-powered" vehicle) to transport garbage, recycling and supplies around."
And of course, I had to ask him about his unique group name. With the help of a local college student, last year he designed the organization's first logo. It depicts a clean water stream "washing" a brain.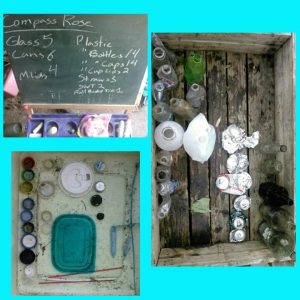 "I wanted to improve our memes. That word basically means any learned behavior. Everything that is not instinct – the things we teach each other. We are treating everything as disposable, because it's cheap and then we discard it. We should be treating everything, everyone, and everywhere better," he says.
The other day at work a visitor from Pierce County told me how much he loved the area; how beautiful it was. We talked for a bit and I told him I felt the same way, even after being here almost 30 years. And as we shared, I thought of Joshua. Groups like his not only recognize the beauty of our environs, they mindfully act to preserve this precious heritage.
Joshua doesn't just talk about making the world better – he takes action.
To learn more, follow Clean Streams and Memes on Facebook, attend a cleanup, and consider a donation. You can contact Joshua Francy directly at 360-589-1686, or via email at CleanStreamsandMemes@yahoo.com.