As a cat owner, the woman was riddled with guilt.  Her cat hated going to the vet; in fact, the experience was so stressful for both cat and owner that she hadn't brought him in for necessary vaccinations and usually skipped the annual check-up. However, when she did bring him in she felt equally guilty because the visits were so intense. Finally she called Raintree Veterinary Center and after some time on the phone, was convinced to schedule an appointment.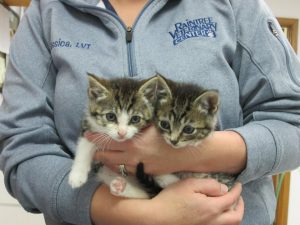 "She called us back later and said she'd never had a better experience with her cat," says Dr. David Westby. "She was extremely pleased and she didn't have to feel guilty any more."
The secret? Currently Raintree is working toward a Fear Free Veterinary Certification aimed at making visits for pets and clients less stressful and more emotionally friendly, or as the Fear Free slogan says, "Taking the 'Pet' Out of Petrified."
"A lot of times these visits are very stressful and fearful," says practice manager, Trisha Jones. "We're working to make it less so."
In the case of cats, that can mean simple things like leaving them in their crates while they're treated. "Part of it is trying to accommodate comfort levels," says Westby. "Generally cats are brought in carriers. We used to bring them out for treatment, but the carriers are safe places for them. Now we try to remove the top and examine them in their carriers." Other methods of reducing stress include utilizing pheromones in common cat and dog areas and the cat room, offering treats during the visit and in some cases, providing medication beforehand. "We're handling them differently," Westby explains. "Some medications can really lower stress."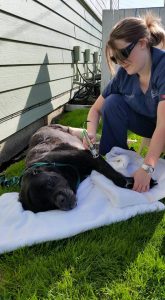 The center is accredited by the American Animal Hospital Association (AAHA), a voluntary process in which clinics are evaluated on 900 standards in the areas of quality of care, diagnostic and pharmacy, management, medical records, and facility. "For years our basic philosophy has been to work to the very highest quality medical treatment we can provide," says Westby. In 2013, Dr. Dan Brown joined the practice, bringing with him a specific set of orthopedic skills and wonderful communication skills. Educating our clients is enjoyable for the team. We want to offer our knowledge so our clients can make the best decision possible for their pet.
One procedure the center offers is common in urban areas but unusual for a more rural practice. "In Dr. Brown, we have someone capable of doing some fairly sophisticated knee repair (TPLO) in larger dogs," says Westby. "He treats what is known as cruciate rupture." Just as humans commonly tear their anterior cruciate ligaments (ACLs), dogs are equally prone to ruptures of the cranial cruciate ligament, a common cause of rear-leg lameness. Such ruptures often lead to degenerative joint disease.
Commonly, residents of the area must drive to the Tacoma area to have a TPLO surgery done for their pet. Now they can come here and have this surgery done locally. It's more feasible for pet owners and less stressful for their pets. Dr. Brown has experience with this surgery and is always willing to educate pet owners on the importance of repairing knees the best possible way the first time.
Cruciate rupture repairs are just one example of the way treatment has evolved since the practice opened in 1992. "The level of sophistication in both diagnosis and treatment has really grown," says Westby. "We're able to do a lot more for our patients, and the expectations of our clients has changed accordingly. They request more sophisticated treatments now."
At the other end of the spectrum, some clients attempt to cure their pets based on dubious advice and end up at Raintree as a result. "We get people who have been consulting with Dr. Google," says Westby. "Information is wonderful but we prefer that it be accurate. The most common thing we deal with is people using a whole variety of substances to treat skin issues. We have even seen motor oil used as a result of misinformation. We recommend that pet owners searching the web for advice, start at their vet's website for a list of reliable references."
In the past several years the practice has grown dramatically, a development Westby attributes to the specialized abilities of Dr. Brown, Trisha's management efforts and the stellar, highly educated, compassionate team members we have onboard. "We've been trying to generate more expertise in our practice, making it cat friendly and progressing it to be as fear free as possible," he says. "This last year has seen the morphing of our practice to be more medically and emotionally friendly for our clients and our patients."
For more information about Raintree Veterinary Center, visit www.raintreevetcenter.com or call 360-532-1900.
Sponsored