James Boyd (Jim) Coker III, husband of the late Grays Harbor family rights activist Joanne Coker, was born in Charleston, South Carolina, in 1937. Jim and his two siblings grew up in Edmonds and subsequently in Port Angeles where his family had bought a small farm. On July 5, 1958, he married Mary Joanne Nesbit. It was the beginning of an extraordinary marriage.

Jim loves the outdoors. His childhood memories include being taught how to swim in the Lyre River by his aunt and playing in the woods and fields. While still in high school, he was hired as a Department of Natural Resources firefighter. "We often had to fight beach fires," he recalls. "We were called out of the class room for them." A year later, he worked for an Olympic National Park Service trail crew in the pristine wilderness of the park. "We hardly ever saw a human person; it was not like today," he sighs.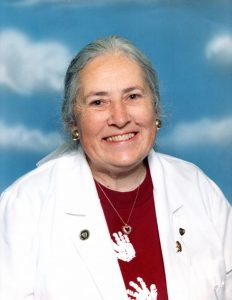 After school, Jim joined the Navy. For four years, he sailed to places like Okinawa and Guam achieving the rank of Machinist Mate 2nd class. He met Joanne while on summer leave in 1957. They married December 20, 1959.
Like Jim, Mary Joanne Nesbit had grown up in Edmonds and Port Angeles. From the beginning of their marriage, the couple shared their interests. Joanne enthusiastically accompanied her husband to high power rifle shooting matches which Jim had taken up as a sport after he left the navy. At a national match in Ohio, where Jim did extremely well, Joanne finally found herself pregnant after five years of marriage.
Within the following five years, the Cokers had five babies: four daughters, Jill, Julie, Jennifer and Janet; and a son, Jay. Jim had given college a try but had found he wasn't college material. Like so many of the men who formed the backbone of Grays Harbor, Jim worked hard to support his wife and children. After moving to Aloha, he started driving log trucks for his father-in-law, John Nesbit. For eight years, he worked for Aloha Lumber. "I drove a log truck for thirty three years, until the spotted owl came along," he says.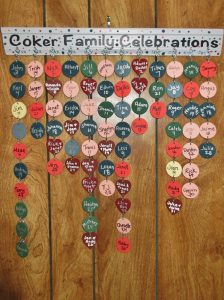 In 1971, the Coker family moved to a farm south of Montesano. Joanne had a special gift for motherhood. Next to their own five children, Jim estimates that over the years 50 or more foster children, most of them mentally disabled, were cared for in the Coker home. Not only human babies found refuge in the Coker home. One day at work, Jim found a litter of five tiny civet cats (spotted skunks) in a log. "They were no bigger than my thumb nail," he says.
Joanne adopted the little skunks along with her own five babies. She fed them with an eye dropper and drove them around in her station wagon together with her own kids. She had two sets of diapers, one for her babies, and one for the civet cats. They followed her around when she did the laundry. When they were old enough, she took them to the vet to have their glands removed and she found homes for four of them. One male lived with the Coker family for seven years.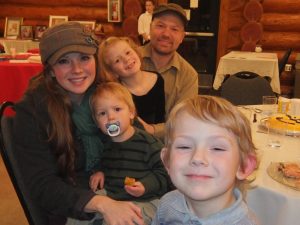 Jim worked hard all day but he still found time to be with his family. He remembers the time when Jill, the couple's oldest daughter, was a baby and would accompany him and Joanne on hunting trips. She had a bed in the station wagon and her baby food in the manifold. "Joanne was quite a hunter," Jim boasts. "In 1976, she shot the biggest elk at Humptulips, a five or six pointer with a broken tyne on one side."
Joanne had always been an advocate for mothers and babies. She was the local leader and secretary for the North West Region La Leche League for 25 years. After her own children had grown, she became an outspoken family activist for Grays Harbor and beyond. She acted as GOP State Committee Woman for multiple years, spoke out against sex trafficking and was able to make a difference in family and pro-life legislation. "She was a voice to be reckoned with," Jim says with pride.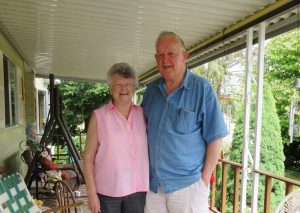 In 1996, Joanne founded the Heart and Hands Pregnancy Care Center to help Grays Harbor pregnant women and their families to build safe, healthy and happy lives for their babies. As always, Jim stood by her side while Joanne supported pregnant women for 16 years until she passed away from ovarian cancer in January 2016. "She kept the center open," Jim says. "The ladies didn't even realize she was sick."
When asked what he considers his major accomplishment in life, Jim doesn't hesitate. "It is my family. All our five kids are happily married and doing well. We have 20 grandchildren and 20 great-grandchildren with more on the way."
At age 79, Jim is married again to longtime friend, Joan, who was widowed six months after him. He is still continuing Joanne's work as Chairman of the Board at the Heart and Hands Pregnancy Care Center now located at 2638 Simpson Avenue, Hoquiam.