Jordan Spradlin could have elected against turning out for track and field her senior year and still go down as one of the state's all-time greats in the sport.

That's how dominating the Montesano senior has been during her high school career.
Unfortunately for opposing throwers, Spradlin, did not take this path and heads into the 2017 season the overwhelming favorite to win her third consecutive state championship in both the shot put and the discus – the latter of which would be a state first in the 1A ranks, while the former would see her join past Montesano standout Tera Novy as the only athletes in history to accomplish the feat.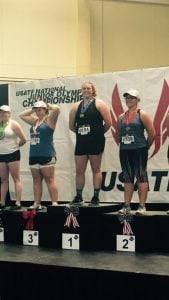 "We knew she was going to be talented when she first arrived as a freshman," Montesano track coach Doug Schupbach said, "but she's exceeded everyone's expectations. She is just an incredibly gifted athlete who is always putting in the work to improve and she's as coachable as anyone."
It's the combination of those traits that had plenty of the nation's premiere collegiate programs clamoring for Spradlin's services.
In the end, sunshine and the warm climate of Tucson won out over Pacific Northwest programs such as Washington and Oregon State as Spradlin signed her letter of intent last winter to compete at Arizona.
"I just fell in love with the school and the program when I visited," said Spradlin, who is also bringing an abundance of smarts to the Wildcats as she holds a 3.957 GPA. "Montesano is a small town and I got that feeling when I was down there. This is a very close-knit group that's like a family and that really appealed to me. I clicked with the coaches and the other throwers. The school also has what I am looking for academically. It just made sense."
Spradlin admits the thought of trading the rain and chilly weather she's grown accustom to for some sun to train in wasn't off-putting either.
"I think it's going to be fun to see what she does down there in that weather," Schupbach said. "It's not going to be like practicing in Grays Harbor."
Another change for Spradlin will be making the transition from three-sport athlete to focusing all her efforts on track and field.
Spradlin, a multiple all-state and all-league player in both basketball and volleyball, could have parlayed her success in either of those sports to a college scholarship, but track has always been her main passion.
"I always wanted to play different sports (in high school), but I've loved track the most," Spradlin said. "It's going to be a different doing only track year-round because I am so used to changing sports from season to season, but it's something I am really looking forward to."
Interestingly, Spradlin was a fastpitch player long before her introduction to track in middle school. Her throws now, of course, all look textbook and flawless, but that wasn't the case starting out.
"I actually had a hard time figuring out the shot put at first," Spradlin said. "I was so used to playing softball that every time I went to throw the shot I would throw it like a softball. It took me a while to get the hang out of. I guess I did."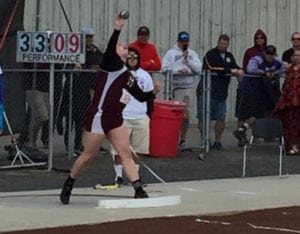 This is a gross understatement as no one in the history of the high school state meet – regardless of classifications – has posted a farther throw in the shot put than Spradlin.
Her throw of 48 feet, 4 inches at the 1A state meet not only gave her a second consecutive title last year it also broke the previous meet record set by Novy in 2012 (48-0).
Spradlin's herculean distance bettered the mark by the 2016 4A state girls champ by more than 4 feet, the 3A titlist by nearly 6 1/2 feet and the 2A winner by almost 5 feet.
It doesn't end there. On the boys side, she would have won the 2B crown and placed in the top 10 in every classification except in 4A where she would have missed the cut by a mere 1 3/4 inches.
"Tera actually congratulated me after breaking her record," Spradlin said. "That meant a lot. I think she felt if someone was going to break it, it might as well be another Bulldog and we can keep the record in the program."
Since the final three weeks of her freshman season, Spradlin has competed in the shot put at 31 meets. She has come up the winner – usually by a significant margin – 29 times with her only setbacks coming in the state championships as a freshman where she finished third and at last year's Stanford Invitational where she posted a third-place finish while competing against the top high school throwers in the nation.
"The goal is to end high school by breaking 50 feet," Spradlin said.
After she posted a remarkable throw of 40-11 in the season-opening event at the Montesano Jamboree, there is little doubt she'll make her goal.
"Obviously, with what Jordan has accomplished during her career here you know she's going to put up big numbers," Schupbach said. "But, that was beyond where anyone should be at during the first meet of the season."
She followed that initial throw with a 45-0 at the second meet, even impressing herself.
"That was kind of a surprise," Spradlin said. "I know it's going to take a lot of hard work to get to where I want to be this year, but that gave me a lot of confidence."
And, that confidence could lead to Spradlin finishing out her high school career by breaking her own state meet record – one which may never be surpassed.