Hoquiam history is not only preserved and cherished in the Polson Museum.  Stories can be found in humble places such as Economy Cleaners, the unassuming dry cleaner tucked between the back of the 7th Street Theatre and the Harbor Drug parking lot on J Street.

"As far as I know, we may be the oldest business remaining in the same family," muses current owner Jeff Protheroe, whose grandfather, Edward Protheroe, founded the firm in 1916 together with his partner Bob Storey. It was the golden age of Hoquiam. The logging and lumber industry was booming. Men and women wore suits that needed to be dry cleaned. Jeff estimates that his grandfather's business was one of four or five dry cleaners in the early years.
Jeff's great grandfather had immigrated from Wales and moved west. His grandfather Edward was born in Colorado. Ed worked his way further west and arrived in Grays Harbor where he eventually became a bushel man for the Levi & Baer clothing store. As a bushel man, he altered off-the-rack clothing to fit the customer, unlike a tailor who would make clothes to measure.
Jeff's grandmother, Stella Walker, was born in Tennessee. She was 16 when her family arrived in Grays Harbor in 1906. She met Ed Protheroe while she was working as a receptionist at a doctor's office. In 1916, a year after he had married Stella, Ed was ready to start his own business.
Together with his partner Bob Storey, Ed opened Protheroe & Storey in the same building on J-Street that Economy Cleaners still occupies today. Another dry cleaner, City Steam Cleaners, had operated on the premises at least since 1906. In 1953, the original recessed doors were pushed out for more space. Otherwise, the building has remained largely unchanged.
Protheroe & Storey operated under their name until 1919. After Storey left, Protheroe chose a more descriptive name – Ed Protheroe Cleaning & Pressing. At the time, clothes were made of wool or cotton and dyeing services were offered by dry cleaners. In the early 1920s, Ed Protheroe decided on a new name including the dyeing services he offered: Economy Cleaners & Dye Works.
In the 1970s, more and more synthetics replaced natural fibers. Synthetics are inexpensive and hard to dye. The call for dyeing services declined and was discontinued at Economy Cleaners. 'Dye Works' was removed from the business name and it had finally arrived at its present form: Protheroe's Economy Cleaners.
Stella and Edward Protheroe's son, Jeff Edward Protheroe, was called Edward while his father went by Ed. Edward did not intend to take over the dry cleaning business, deciding to attend Grays Harbor College instead. Sadly, Ed Protheroe passed away in 1940 and Edward abandoned his college education to help his mother in the family business. When World War II came, Edward went into the service and was gone for two and a half years. During that time, his mother ran the dry cleaner with a crew of employees.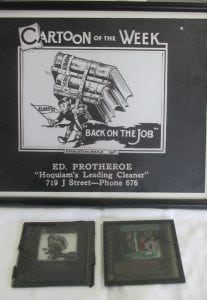 The dry cleaning process has not changed that much since 1916. Clothing is washed in the dry cleaning machine which forces a grease removing solvent through the fabric. Before and after dry cleaning, stains are treated on a device called the spotting board which resembles an ironing board. The spotter flushes out dirt with a steam gun. The spotting board vacuums the dirt out of the fabric and blows air to dry the garment. The clean garment is pressed in a pressing machine or with a hand iron. Repair and alteration services are traditionally offered by dry cleaners as well. Economy Cleaners also delivers the clean garments to the client's home, a unique service and throw back to their historic roots.
While her son was in the service, Stella's crew included dry cleaner Ed Shelley, presser Lucille Lyden and truck driver Jackie Carpenter. After the war, Edward returned to his position as truck driver. Rose Rogers, Kate Berquist and Edith Williams all worked for the business in the 1960s.
Like his father, Jeff Protheroe did not intend to take over the family business. And, like his father, he also attended Grays Harbor College. His subject was music and he dreamed of becoming a band teacher. However, the family business beckoned as a good way to make a living for Jeff, his wife and his two children. He began helping out at Economy Cleaners when he was still in high school. "I eased into it," he says, "until I began to work here full-time in 1980."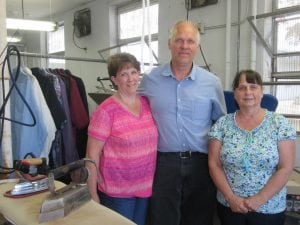 Today, Economy Cleaners is a thriving Hoquiam business. Jeff runs the dry cleaning machine and does the spotting. His wife Liz and Joyce Bryant work as pressers. Repairs and alterations are done by Jeff, Liz and Marleen Edwards. Dry cleaning may not be a young man's dream job, but three generations of Protheroes have raised their families running their own dry cleaning business in Grays Harbor. They have become part of the fabric Hoquiam history is made of and that is certainly something to be proud of.
In his spare time, Jeff Protheroe plays drums with the Dukes of Swing, another Grays Harbor legend. His musical gift has not gone to waste.
Economy Cleaners is open 8:00 a.m. to 5:30 p.m., Monday to Friday. Call 360-533-3743 for more information.