If you have a distance to travel, Grays Harbor Transit (GHT) is your best option when it comes to a convenient and inexpensive means of transportation. Even if you own a vehicle, using Grays Harbor Transit can save you gas and wear and tear on your car. Plus, you can catch up on work, Netflix, a good book or even sleep, and let them do the driving.
"Our routes give people without vehicles the freedom to get where they need to go," says Terri Gardner, supervisor at Grays Harbor Transit. "And even if you have a car, it can save you money."
With routes throughout Southwest Washington, Grays Harbor Transit can get you where you need to go. Check out these current routes stretching far and wide.
Centralia
Recently restored after being eliminated in the 2013 budget cut, GHT now has buses traveling to Centralia Monday through Friday, three times a day with an expansion to four times a day planned for in January 2018. Busses leave from Elma Transit Center and stop at Lucky Eagle Casino in Rochester and the Amtrak station in Centralia where you can link to Lewis County's TwinTransit or board the train for Seattle, Portland and beyond.
"We have quite a few students who go to Centralia College, so we are looking into leaving earlier in the morning to accommodate them," says Terri, siting Grays Harbor Transit's desire to be responsive to rider needs.
Quinault and Beyond
Service to Quinault is offered Monday through Friday, five times a day and twice a day on weekends. This route is popular for business and pleasure alike, with Quinault offering a scenic destination for many travelers. And, with it's out of the way location, taking transit is a perfect way to assure safe passage and a window seat view of the wilderness splendor.
Passengers from Olympia or locally in Grays Harbor can ride GHT through Aberdeen and then up to the North Shore as well. From there, they transfer to Jefferson Transit and can ride all the way around the peninsula to Port Angeles and Port Townsend. Finally, after a visit to these scenic towns, riders connect to Mason Transit for a ride to Shelton and back down to Olympia or home to Grays Harbor. The loop is scenic and serene.
"The kicker is that you can go from Olympia to Quinault – well over 100 miles – for just $3," Terri adds. "And then, about another $2.50 from North Shore to Port Angeles and Mason Transit is free. So as you can see, it's a really inexpensive way to travel."
GHT has buses six times a day, Monday through Friday and they are looking to add another route this winter. The earliest bus leaves Aberdeen at 6:00 a.m. on the weekdays. On the weekends, there are three buses a day.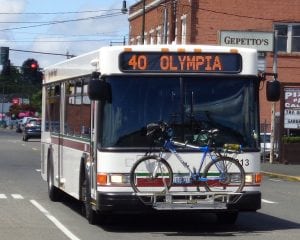 Grays Harbor Transit busses exit at Mud Bay and travel all the way into downtown Olympia, including stops at Greyhound and the Intercity Transit Center for connections. "With these routes, people can actually take public transportation all the way to SeaTac from Grays Harbor," Terri explains. "It involves about four transfers, but it only costs around $10 and you don't have to pay for airport parking."
No matter where you are headed, Grays Harbor Transit can help you get there smoothly and inexpensively. For bus fares and schedules, visit the Grays Harbor Transit website.
Sponsored