L.J. Valley has heard it for the last four years. Every time the Montesano High School senior gets free along the perimeter someone on the opposing team's bench will shout out, "Shooter!"

The goal is to notify the defense of Valley being open in hopes someone challenges his shot before he makes you pay with a bucket.
Valley has more than earned this reputation as a long-range sniper on the basketball court, constantly showcasing his range over the last four seasons on varsity by hitting one big shot after another.
In fact, the last time someone probably didn't yell out when Valley squared up for an uncontested 3-pointer was during his first varsity game ever as a freshman.
"No one knew who I was," Valley said.
Almost an afterthought on the court at the time, he proceeded to hit the first two triples he heaved up as a high school player. Ever since then Valley has been a focal point for defenders, and when he gets open they hear about it.
"The kid can shoot," Bulldogs' coach Doug Galloway said. "He's had that ability since the first time I met him when he was an eighth grader."
Valley, who's the son of former long-time Mary M Knight girls basketball coach, Lance Valley, grew up in the gym, taking in almost every game his dad coached and trying to make it out to as many practices as he could.
During halftimes, Valley was the 5-year-old out shooting when the teams were catching a breather in the locker room. The band would perform, the fans would check out the concessions and Valley would be on the court firing up as many shots as he could before the competing teams returned and ushered him back to the bench.
"I was that little kid, Valley said. "I would just go out there and shoot and shoot. I was in that gym all the time. I've always been a gym rat."
While basketball is his top sport, it was actually football and baseball which ultimately brought him to Montesano.
There was no youth programs available at the time through the Mary M Knight School District for either sport when Valley was in elementary school. A 30-minute drive away, however, at Montesano both were present.
Through both sports a friendship with fellow senior Trevor Ridgeway was formed, leading to the duo playing on a fifth grade youth basketball team coached by Ridgeway's dad.
Three years later, Valley made it official and transferred to Montesano as an eighth grader.
"The school is actually about 40 minutes from where I live. My dad didn't want to drive me back and forth everyday so the Ridgeways took me in and let me stay there for a year or two," Valley said. "They just welcomed me in and treated me like family."
Background basketball battles was the daily norm for Valley and Ridgeway, helping them form a strong on-the-court familiarity, something the Bulldogs have benefited greatly from the last two seasons.
Once Valley got his driver's license, he moved back home, now making the long drive to and from school on his own.
"It's worth it," Valley said about travel time commitment.
The initial transfer did come with some ramifications as Valley was ineligible to compete in varsity sports for his first year at Montesano, forcing him to play on the JV basketball team during the first half of his freshman year.
Once Valley became eligible, Galloway wasted little time bumping his young shooter up to varsity where Valley immediately showed off his outside shooting prowess by burying two shots in his first game.
Plenty more have followed.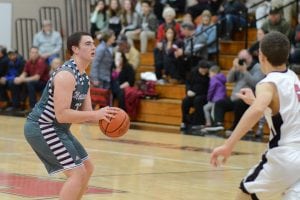 "I just stuck with it and developed into being that 3-point shooter," Valley said. "Things just starting clicking that first game. Logan Truax was our point guard and he came up to me during the game and told me to just keep shooting."
And Galloway has given his senior the green light to do just that.
"But the thing about L.J. is he's doesn't care if he scores 30 or scores 4," Galloway said. "He's a student of the game. J.L.'s basketball IQ is very high. The only concern for him is if our team wins. He's an invaluable part of our basketball team."
With a month remaining in the season, the Bulldogs find themselves in the hunt for the 1A Evergreen League championship. The team enjoyed a seven-game winning streak before falling to league Forks in a narrow 49-46 loss on the road.
The Bulldogs will host the rematch on January 30 before closing out the regular season on the road at Hoquiam.
"I think this team's potential is really high," Valley said. "I think we can reach Regionals or even further. Everyone is together like a family. It's just been an awesome experience."