Grays Harbor College (GHC) is known for offering high quality classes to the community taught by knowledgeable professors with a passion for education. After the recent retirement of Erik Sandgren, which left an open position for an art instructor beginning winter quarter 2018, Nathan Barnes accepted the job.
Nathan's art career stems from a long history and determination to follow his passion with a willingness to be honest with himself. He began studying art while attending Eckerd College in St. Petersburg, Florida, before receiving a BFA from the University of Utah and a MFA from Idaho State University. He has broad teaching experience, most recently at Pierce College while serving as gallery coordinator at South Puget Sound Community College. Coming into this position mid-school year was no easy task, but he's done so with a desire to continue the Art Department's tradition of excellent work on campus and in the community, while contributing his own experiences within contemporary art. Nathan happily accepted the job and ran with it.
"The arts are a wonderful way to share ideas," says Nathan. "I'm excited to share the ideas and experiences that I've acquired with the Grays Harbor community and college students. Art is extremely important to me, it's how I've made my way through life."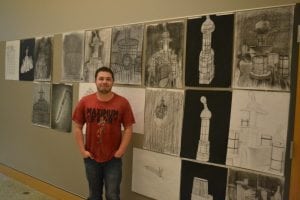 Nathan will be teaching four classes this quarter. Art Appreciation is a study of the visual elements and principles of design. Students practice asking critical questions about art while considering its cultural and historical context. This approach to understanding the creative process yields insight into the human condition. "The focus of this class is to open doors for my students," says Nathan. "I want to expose them to the art universe. I have a lot of confidence in the life affirming power of visual arts. With effort, they will discover something personally meaningful, not to mention an additional connection to human history."
Drawing, Printmaking, and Design II are studio courses. This means the student will be focused on cultivating the skills necessary to enter the world of material production. Observational and non-objective approaches to drawing, printed works on paper, color theory, and the creation of 3-dimensional forms will be various points of emphasis depending on the course. In addition to "how", Nathan continually asks his students to consider the "what" and "why" of the creative process. What do you want to produce and why do you want to produce it? He emphasizes that these last two questions don't necessarily need to end with an answer. Their continual consideration is a powerful force in an artists' practice, and eventually becomes the subjective criteria by which the artist measures their own work.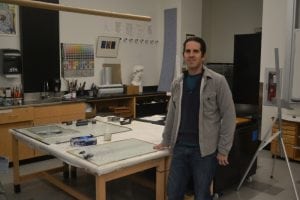 Nathan's own artwork can be described as painting, drawing, and mixed-media, but can be more perfectly understood in terms of creative behaviors. For Nathan "mixed-media seems the most personally authentic, and I'm also very process based." He attributes this to the world of his experience, where one must cycle through a variety of lenses and points of view to make sense of contemporary life. Nathan will regularly cut up paintings and panels and reorganize them into compositions with physical layers that can include found objects. His "traditional" paintings and drawings do the same, but in a less self-aware way. "I don't like to know how an artwork will end. I get bored with a piece when all that's left to do is make it. I'm always subverting myself in search of that thing that will keep me trapped in the work."
Throughout his career, Nathan has acquired nearly ten years of curatorial experience, organizing exhibitions at various spaces around the country. He began managing the SPSCC Art Gallery five years ago, programming around eight shows per year showcasing local, regional, and international artists. "My curatorial experience has given me the opportunity to meet, connect, and learn from artists around the world," explains Nathan. "I also have the privilege of representing the Washington State Arts Commission (ArtsWA) on their public art curator roster where I have the occasional opportunity to curate public arts projects. This further allows me to work with the many amazing artists throughout Washington, such as Hoquiam's own Carrie Larson, in curating projects that enhance Washington's public spaces."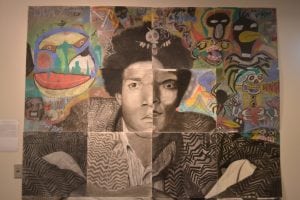 During Nathan's first few months in Grays Harbor, he has already begun connecting with local artists and organizations in the area, including the Aberdeen Art Center. If you live in Grays Harbor and would like to see more of Nathan's work or share your own, you can send him an email by visiting his website.
Nathan's outlook for the future is bright and he is enthusiastic about his new position. "It's very productive for a student when I can sit down with them at their desk or easel and work one-on-one" states Nathan. "This is when students make the biggest strides, and I feel fortunate and look forward to witnessing their progress over the length of the quarter." Learn more about these and other art classes by visiting the Grays Harbor College website.
Sponsored