Coach Mike Bruner has a passion for baseball and a gift for coaching. In 2016, after nine years at Montesano High School, he accepted the position as head coach at Grays Harbor College.

"It was an extremely tough decision," Bruner says. "Montesano is my alma mater. But I wanted to build a championship program in Grays Harbor where the best of the local players will stay and play."
The road to that goal started out with a few bumps. The baseball program at the college has had some rough years, and the reputation of the program made recruiting initially difficult. The lack of facilities also posed a challenge. Fortunately, the college and Aberdeen Parks and Recreation are combining forces to build a large field house. Bruner sees the project as an absolute game-changer.
In the meantime, Bruner and his staff are leaving no stone unturned to find the right players to build a competitive program. They have recruited from the Harbor to as far away as Florida, Hawaii and even Australia. Conference rules prohibit coaches from making first contact with players from non-conference states, but once that contact is made, they make every effort to sign talented recruits.
Thirty-seven players from around the country and across the ocean bring a great deal of diversity to the team. Bruner is proud of the way his players respect that diversity. And he encourages them to bring that respect into the community as well.
Players have volunteered at PAWS, joined Aberdeen's community cleanup campaign and organized work parties to clean the baseball facilities they use. "You can't ask for support from the community unless you are willing to support the community," points out Bruner.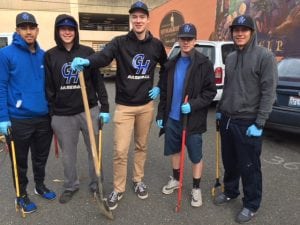 The sense of community and service speaks to Bruner's coaching philosophy. "There has to be a socially redeeming value to the sport," he maintains. "If they don't also learn something about life and become better men, then that's a failure."
For the players, the game brings a sense of family that proves important on and off the field. Whether trusting a teammate to catch a fly ball or relying on a friend for a ride to the store, the simple things make a difference.
"We're here to play baseball," explains pitcher Kai Meuronen of Australia. "We have a really close group of guys, all striving toward one goal. Especially for those of us coming from so far, it's nice to have that net to lean back on."
The unity and trust among the players reflect the team's guiding values. On the first day of fall ball during Bruner's initial season at Grays Harbor, players and coaches decided on seven core values around which to build the program.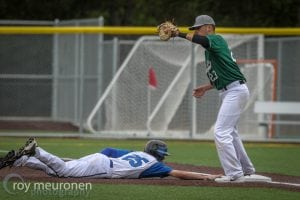 Over a number of years, the program had developed some difficult history. On that first day, Bruner told the players they were going to leave the past behind and develop a value system to lead the team forward. Every player commits to values of:
Unity
Trust
Grit
Focus
Work ethic
Discipline
Selflessness
In difficult times on or off the field, coaches and players remind each other of the core values. A commitment to unity, for example, pulled the team through a series of tough losses this year. Juan Navarette, third baseman from Arizona, struggled in the beginning.
"When we lost the first couple of games, I was devastated," he remembers. "My teammates picked me up, and I learned how to deal with it. I learned how to lose and keep control."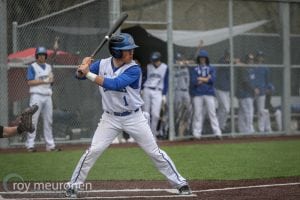 The season so far has given the players plenty of opportunity to learn from adversity. Plagued by injuries, the team initially fought to find momentum in a run of non-league games against stiff competition. Bruner is teaching his players to take one game at a time and begin every day with a clean slate.
"He teaches us to be positive every moment, in every aspect of the game," explains Navarette. "If you're losing, if you're winning, if you're having a hard time, just be positive. Every little thing matters."
With the beginning of league games, the team has started to turn a corner. Two years ago, the Chokers won just three games. Last year, they won six. This year, they still have a chance to make the playoffs, and that goal is something that the team believes is within their grasp.
As Bruner points out, building a quality, competitive baseball team takes time. Two years in, his recruiting strategy is beginning to pay off. Already, the program is fielding interest from a higher level of players. This family of young men from near and far are the building blocks of a stellar program.
"I think the baseball community understands that we're serious about what we're doing and that we're serious about turning this into a championship-level program," says Bruner.
Look for great things to come out of Grays Harbor baseball. This group of diverse young men and their coaches exemplify the unity and grit that champion teams are made of.