Hitch, the volunteer search and rescue bloodhound, sits obediently with his handler as she opens a bag containing the scent of a missing person. After the sit, sniff and switch from his collar to his harness that signifies it's time to get to work, Hitch is off in a determined lurch to track the subject.
The missing subject in this case is volunteer, Jack Brumbaugh, participating in the weekly training with Grays Harbor Volunteer Search and Rescue (GHVSAR). And in a tail-wagging victory, he's been found quickly in this search simulation.
"You have a big party at the end so they think the best thing they can do is find the person," says Deb Blake, K-9 team leader, as she rewards Hitch with a treat and praises him for finding the subject.
Established in 2012, the GHVSAR collaborates with the Grays Harbor Sheriff's Office and has been working tirelessly since then to answer the calls and keep the public safe, averaging 5 to 10 searches a year.
"GHVSAR is an organization of volunteers who are willing to go out in the elements at any given time to look for and help those in need," says Sergeant Brian Dayton of the Hoquiam Police Department and president of GHVSAR. "We also assist other counties when requested. Our K-9 group gets used quite a bit."
Always training, always learning
A lot goes into training not only the K-9 handlers, but the seven dogs in the organization right now as well. They strive to train them for two to four hours per week, says Blake.
They train all throughout Grays Harbor on as many terrains as possible to keep the dogs used to everything from tracking in urban areas to dense wilderness. The volunteers and their dogs all work foremost as ground-pounders, or ground searchers, but there are a lot of areas that dogs can be trained in. They can be trained in anything from article-based tracking, to air scent tracking, to human remains detection (HRD). The K-9s on GHVSAR each have their individual strengths.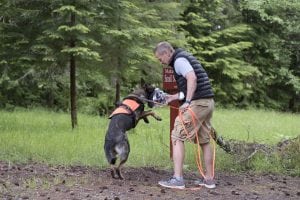 For instance, Daisy, a 13-year-old dog on the team that has been a part of GHVSAR for a couple of years, does well in urban trainings but takes a little longer in wilderness searches. Jaeger, 2, has been training since she was a few months old, and does exceptionally well tracking on the beach and is training in HRD.
Blake, who has decades of experience with dogs and specifically with training her own search and rescue dogs and the local teams for the last seven years, says that no matter how long someone has been involved with search and rescues, there is always room for more knowledge.
"I don't care how long you're in it, you can always learn," Blake says. "Everybody has something valuable to input in training or in a mission."
Training does not go without challenges or learning curves. The handlers liken their dogs to people, saying that they have their off days just like anyone and are not pressed to train on those days. Or that sometimes dogs will get distracted by other scents, called "crittering," and their handlers use a command familiar to the dog to get them back on task. It's also important to find what each dog feels is the most rewarding when they have done well. Some dogs prefer treats while others would rather be allowed to play as a reward.
Teamwork helps keep everyone safe
Another important aspect of the search and rescue teams is the position of the flanker. The flanker carries supplies and goes either in front of or behind the dog and the handler depending on the environment and insures that the dog and handler stay safe while they focus on tracking.
"A good flanker knows the dog almost better than the handler," Blake says, adding that it's important to anticipate any potential hazards or dangers ahead.
There is a lot of work involved in becoming a certified ground-pounder, such as survival training, wilderness first aid and other requirements. It's not unusual for it to take a year or more to become certified.
Each one of the volunteers has a job outside of volunteering with GHVSAR, but they do their best to keep on learning and keep on training to be the best search and rescue team possible and they enjoy the camaraderie they share with each other, says Blake.
GHVSAR is always in need of volunteers to come out and hide for the dog team to find during their weekly Saturday trainings. For more information on GHVSAR or for those interested in helping out, message Grays Harbor Volunteer Search and Rescue or get in touch with Deb Blake at 360-589-0109.
---
Safety Tips
Always check the forecast if you plan to go into the wilderness
Know your abilities
Let someone know where you are going to be
Always have a check-in and check-out person
Tips courtesy of Brian Dayton, president of GHVSAR