Growing up in the Pacific Northwest, the familiar sight of giant log trucks rolling through the streets was as common as the clouds in the sky. But have you ever wondered how much training and hard work goes into becoming a log truck

driver, entrusted with hauling loads of logs through winding forested trails and on public highways? Grays Harbor College (GHC) is nearing the end of a long journey to bring a Log Truck Driving Program to the area that will teach the needed skills to participants hoping to join the industry.
Although Grays Harbor hasn't exported 1.4 billion MBF of lumber since it's heyday in 1926 when Aberdeen was dubbed the Lumber Capital of the World, logging is still a huge economy driver in Grays Harbor and Pacific Counties. Currently, there are around 26 logging companies in Grays Harbor and several in Pacific County, not to mention the many other companies in neighboring counties. Responding to the industry need for more log truck drivers, GHC aimed to create this unique program for the area which is also paving the way for other programs across the country as the first of its kind.
Around two years ago, the idea for a program such as this was on the mind of several employers who together approached Nancy Estergard, Coordinator for Business Contract Training and Community Education at GHC. One of the driving forces for pioneering the program was the large number of log truck drivers retiring, leaving open gaps for employment for younger generations. While employers seek drivers with experience, the younger generations are not filling these jobs as rapidly due to the lack of training opportunities to gain the necessary experience for the jobs. "This is a growing problem across the Pacific Northwest. Bringing this program to GHC helps bridge the employment gap.  Employers like the program because builds a larger pool of qualified talent and saves them time and money on training new drivers," stated Nancy Estergard.  She also noted "Companies that pay for their employees to take the training through GHC will receive a reduction in the student cost."
The makings of the Log Truck Driving Program began with a grant from the Pacific Mountain Workforce Development Council providing funding for a four student class. GHC developed course curriculum by collaborating with several regional logging companies.  The GHC Instructional Council, Washington State Board for Community and Technical Colleges, and the Northwest Commission on Colleges and Universities recently approved the curriculum. Naturally, creating a new program from scratch didn't come without its challenges in regards to startup funding and space. However, the majority of the hurdles have been crossed and the new program has a tentative start date of September 2018.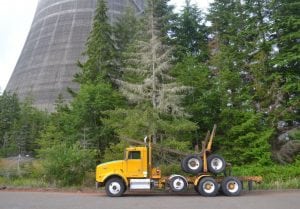 In order to properly train drivers for the field, GHC needed an actual log truck to be able to haul live timber loads with the students. Weyerhaeuser graciously stepped in, agreeing to donate a log truck and trailer along with a road use permit for some of their private roads. "Weyerhaeuser is pleased to partner with GHC and the Regional Education and Training Center to provide technical skills education in distribution and manufacturing trades, some of the area's highest-demand jobs," explained a representative for Weyerhaeuser. "Every day, our employees safely and efficiently move northwest timber between tree farms and facilities in trucks just like the one we're donating today. Giving back to our local communities is one of our core company values, and it's our hope that this collaborative effort will not only provide new opportunities for Southwest Washington students, but also help sustain and grow a vibrant regional workforce well into the future."
The program itself requires students to first have their Class A CDL. If a student does not have their Class A CDL, they will first need to enroll in GHC's 11 week CDL program. If a student already has their Class A CDL, then the Log Truck Driving Program will only take around 60 hours to complete. The familiarity of driving with a live load on logging roads is vital in training future drivers for the real-life challenges that can only be experienced when in the field.
GHC is currently enrolling students in the program.  Space is limited, as a maximum of 2 students can enroll at a time.  The first class is scheduled to start September 1 with other classes offered monthly.  GHC will be hiring additional instructors which will give students different perspectives about driving in the field. If you or someone you know is interested in either of these opportunities, contact Nancy Estergard at nancy.estergard@ghc.edu or call 360-538-4012.