Imagine the thrill of hooking a 20 pound fish that can swim up to 50 mph. Every year, hundreds of such thrill-seekers journey to the Westport Marina for the unique experience of catching North Pacific Albacore tuna. This sustainable fishery is an economic mainstay of Washington's leading commercial fish landing port. Each summer, when the schools of albacore return, so do their fans, spurring commercial, recreational, and retail activity at the Westport Marina.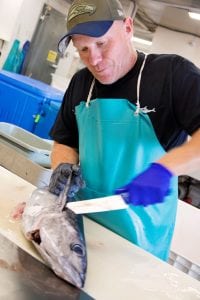 Westport Marina houses 550 slips for commercial and recreational fishermen to moor their boats. Each year, thousands of anglers utilize the marina's boat launch, public fishing piers, and moorage slips for fishing. The marina is just one of the Port of Grays Harbor's 7 lines of business that exist to fulfill the Port's mission of generating international trade, economic  development, and tourism in Grays Harbor County.
"Tuna was hit and miss in the 1950-60s, back when the boats from Seattle would just stop by Westport on their way down south to fish," recalls Don Samuelson, retired fisheries and wildlife program director at Grays Harbor College and longtime Westport charter fisherman. Now, the commercial fishing boats don't just "stop by," on their way south; they come from all over the West Coast to fish alongside the local tuna fleet and deliver to Westport based processors. Many commercial fishing boats make Westport their home during the summer months as they harvest and deliver thousands of pounds of tuna each day. Annually, the commercial tuna harvest in Westport can reach anywhere from 5,000- 20,000 tons, playing a major role in Westport's rank as the 10th largest landing port by volume in the U.S.
You Can Taste the Difference
For those who would rather not brave the Pacific Ocean for their catch, there are plenty of retail options for scoring your albacore for the year.  An Albacore Tuna sandwich with Westport caught tuna cannot be compared to the mass market tuna found in grocery stores.  For those who prefer the finished product, specialty retail seafood outlets like Seafood Connection, Sassy Seafoods, and Merino's Seafood Market offer their best during and after albacore season with top of the line canned tuna. Others, who prefer to do the work themselves, are able to buy fresh tuna straight from the fishermen at the docks, then process and can it themselves.
The Sport of It
In addition to the commercial fishermen and the retail consumers, hundreds of boat owners trailer their vessels into the marina each summer in an attempt to fill their freezers with the valued fish. Hundreds more schedule charter trips with one of the many local charter boat operators for a guided and experienced trip in pursuit of this esteemed fish.  The Westport Charter Boat Association website, which lists different charters available for tuna trips, is an excellent resource for booking such a trip.  Samuelson remembers his days on deck and in the wheelhouse of his own charter boat, "It's exhilarating figuring out how to work as a team using the tuna-shuffle. Sometimes, the crews have more fun than the customers."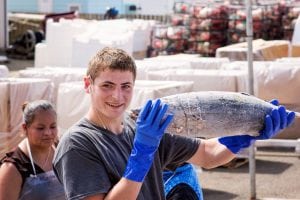 Tuna is near and dear to the hearts of American consumers, ranking second only to shrimp. And while it is easy to identify the significance of this fine fish to Westport's economy, tourists, and fishermen, there is one aspect that trumps all else – it simply tastes great; nothing compares to the taste of fresh, local caught albacore tuna. While the season is still hot, take a trip to Westport to experience a charter trip, pick up fillets, or purchase a few cans of the best Westport has to offer. For more information about the industry, the American Albacore Fishing Association, The Washington Trollers Association, or the Washington Fishboat Owners Association are great resources.
Sponsored