Since Windermere Real Estate first came to Grays Harbor in 1991, they have been donating to the Windermere Foundation, that focuses on supporting low income or homeless families. The foundation takes a portion of the earnings of each property sold in Grays Harbor. The staff decides where to donate the funds.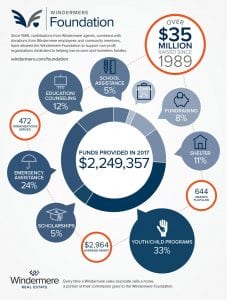 "There is the Windermere Foundation that is based out of Seattle, but everything that we give here is strictly from money in Grays Harbor," says Travis Jelovich, broker and owner of the Aberdeen and Ocean Shores Windermere Real Estate locations.
"It's our agents, they earn it," Teresa Furstenwerth, office manager for Windermere and local foundation coordinator in Aberdeen, adds. "They decide where it goes as long as it fits the criteria." Those that apply for donations have to meet certain criteria that are approved by the headquarters in Seattle, but the money raised in Grays Harbor stays in Grays Harbor.
"I think it's important because the money that we're earning is from here and we're giving back here," Jelovich says. "I think a misconception of the Windermere Foundation is the public thinks that the proceeds come from Seattle, but that's not the case. It's all local money staying local."
Though all of the funds go through the headquarters, each office only gets to spend what they themselves have raised.
"Each Windermere office has this capability and it's what they do," Furstenwerth says. "They get to decide where the funds help their community. Our office helps our community, that's how it all works."
For each closing made by one of the 11 agents at the Aberdeen Windermere, $10 is put into the foundation with about $2,000 total collected on average each year to put towards community needs. Furstenwerth, who has been the foundation coordinator for several years, says if by chance the money raised that year is not spent, it rolls over to the next year for possible use, so it's still available to donate when the time is right.
Some ways that Windermere has given back locally is an annual scholarship to Grays Harbor College, the Strong Kids Campaign through the YMCA of Grays Harbor, the Breakfast with Santa put on by the Aberdeen Beautification Committee as a part of Winterfest, and more. A couple of times, Windermere has worked with United Way of Grays Harbor to donate funds under extenuating circumstances, like the major flooding that took place in 2015 and the recent losses that the Coastal Community Action Program (CCAP) suffered in the Aberdeen Museum of History building fire in June this year. These kinds of donations require more paperwork before dispersal, but it's worth the effort to help the community.
Often times, Windermere receives thank you notes from people that they have helped out. They keep a binder of all of these letters and notes at the office as keepsakes and remembrances for the staff.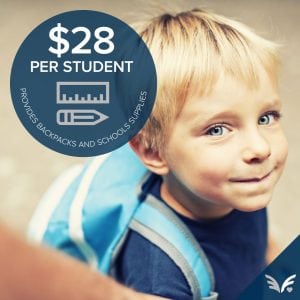 The Ocean Shores Windermere office, which has six agents, is also involved in giving back through their earnings in the foundation, recently having donated to the Green Lantern Lunches Program, the Ocean Shores Food Bank, and the North Beach School emergency fund.
Windermere's slogan is "It's not about houses, it's about people," and the Windermere family really lives up to that in Grays Harbor. Sometimes, Windermere will get requests that don't align with the foundation criteria, but that doesn't stop them from helping others in need.
"We continue to donate money outside of the Windermere Foundation with our office," Jelovich says. "So sometimes if it doesn't fit and we feel like there is a need, then we just step up as an office."
In addition to having Community Service Day every year that is Windermere-wide, the Aberdeen Windermere also organizes a gift collection during the holidays. "Every year we collect Christmas presents for the Domestic Violence Center," Furstenwerth says. "That's an office thing we do, that's not any part of the foundation."
The Windermere Foundation will continue to be an active part of Grays Harbor's local community outreach for years to come, helping countless harborites along the way.
For more information about the Windermere Foundation, visit the official website for details. For more information on Windermere in Grays Harbor, visit the official website or Facebook page.
Sponsored