The winter gloom is fast approaching, coming toward us no matter how much we cling to memories of summer. All around the region, the leaves are changing colors and crisp air is settling in at night. We have broken out our jackets, turned on our heaters for the first time in months, and started preparing to hunker down until the spring sun returns.

While that may sound good and well, we have a few more weeks to get outside before the heavy rains return, giving us a perfect excuse to take the family out on a few more hikes. With so much incredible wilderness all around, we should be taking advantage of every sunny moment we have and exploring wilderness one more time. While there are a lifetime of trails to explore all around the Olympic Peninsula, we have compiled a handful of trails perfect for the family. Don't pack up the hiking boots just yet – it's time to hit the trails!
Copalis Beach
If you love sand dollars, seagulls, and sweeping views of the breaking waves of the Pacific, you'll love the trek up the Copalis Beach Spit. Walking along the sandy shores, you'll be able to beachcomb and relax in the salty air without many people around. The trek from Griffith-Priday State Park to the tip of the sand spit is about four miles roundtrip, the perfect distance for all ages. What makes this a great hike before the rainy season is that it gets you one more day on the coast, in the solitude and splendor of the North Beach.
Grays Harbor National Wildlife Refuge
With 1.9 miles of trails and some of the best bird watching in the nation, Grays Harbor National Wildlife Refuge needs to be your sunny day escape. Offering views of Grays Harbor, as well as eagle, shorebird, blue heron, and hawk viewing, a fall escape to the tidal flats of Grays Harbor is fun for all. Flat and right in Hoquiam, those living at the eastern edge of Grays Harbor have a great opportunity to reconnect with their backyards. Bring a pair of binoculars and pack some patience and you may have a chance to see some of the wildlife of the region in action.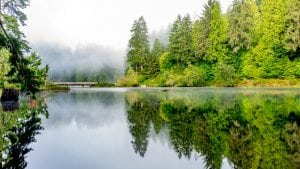 Lake Sylvia
Just north of Montesano, Lake Sylvia State Park is ideal for those who want to see fall colors, enjoy a walk in the woods, and have a chance to walk along a beautiful lake right here in Grays Harbor. Lake Sylvia offers five miles of hiking trails, guaranteed to give you a great dose of Northwest nature along well-maintained trails. Rolling gently from the Lake Sylvia State Park campground, the path leads over wetlands and passes through a small covered bridge, perfect for families of all ages. What makes this great is that the park's trails connect to a network of hiking and biking trails in the surrounding 5,000-acre Montesano City Forest
Porter Falls
Located in Capitol Forest, southwest of Olympia, Porter Falls is an overlooked trail to a fun and picturesque waterfall. At less than two miles in length, this short, but sweet trail is ideal for families looking to get their little ones out into the forest. There are some hills, but it isn't uncommon to see families with kids as young as three walking this trail together. If you can, try to time a hike here after the first heavy rain, so you can see the creek and falls are their best.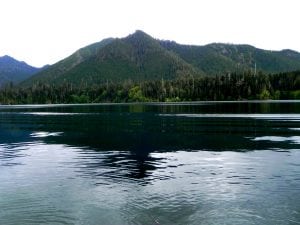 Wynoochee Lake
One of the most remote and wild places around, Wynoochee Lake is a perfect place for one more remote hiking adventure before the rains return to this wet region. While the whole lake can be explored along a 15.5-mile trail, we strongly suggest walking until you want to turn around on the western shore of the lake. Best seen on a day when the clouds hang in the trees, the Wynoochee Lake trail is an underrated gem and one that needs more love. Taking your family here this fall may just become a family tradition, passed on for generations.
Pony Bridge and Maple Glade
What could be the best combo hike in the area, a trip up to the Quinault region of Olympic National Park will have you seeing eagles, elk, and mossy trees in every direction. The Pony Bridge Trail, at the end of South Shore Road at Graves Creek, is an out-and-back hike past towering timbers and to a box canyon along the Quinault River. Few views are as iconic as this. Those in the area looking for something a little flatter and easier should head to the Maple Glade Trail near the Kestner Homestead on North Shore Road. Short and sweet, this mile-long trail gives the Hall of Mosses trail in the Hoh Rainforest a run for its money, thanks to stunning rainforest views.