The colorfully painted Thai Smiles takeout restaurant first opened in 2013 and has since become a favorite quick meal stop for many in Aberdeen. At first, the restaurant was meant to be a small, easygoing business for the owners, but Grays Harbor had different plans as word of the tasty cuisine got out and it grew to be a full, busy business.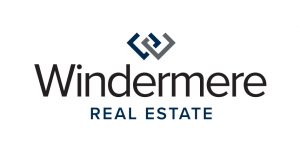 From Retirement Side Job to Blooming Business
Anong Sukprom and her late husband, Bob Zenger, who sadly passed away unexpectedly from cancer in 2017, first started up Thai Smiles as a way for Anong to stay busy in retirement while also doing something she loved. Before opening the restaurant, Bob and Anong had moved to the area to find a quiet place to retire after running a different Thai restaurant in Long Beach for several years.
The regular customers have kept the family busy and even though there have been many unforeseen obstacles, Thai Smiles strives to provide the best takeout experience possible.
Last February, just a few months after Bob's passing, Anong was diagnosed with lung cancer. This put a major hitch in business as it required Anong to stop cooking and to focus on her health. Today, her daughter, Salita Kamthep, has stepped in and has learned how to do everything from the cooking to the finances and works tirelessly to keep the restaurant open for the faithful customers that she's grown to call family.
"It's been six years and to have the same customers, it's not just a customer now," Salita says. "We see each other almost every day or twice a week. It's more than customers, it's more than friends, it's family to us. I'm very thankful for them for always coming back."
Salita's boyfriend, Paul Scott, helps where he can, too, but a majority of the business responsibility is on Salita. Salita is also the one who looks after her mother while she undergoes treatments, attends doctor's appointments, or handles other health emergencies, so that is why there are sudden closings of Thai Smiles from time to time.
"We want to try and do the best we can to keep the Thai business going, but sometimes it's hard because the situation is always changing," Salita says. "Not many people know my mom because she was always in the back, but now hopefully people are understanding of why we close so much. My mom is a part of us, is a part of Thai Smiles."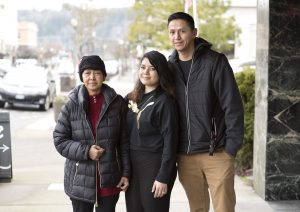 Authentic Thai Flair Made Local
Anong had lived in Thailand her whole life and moved to the U.S. in 2001 after visiting her sister and deciding she liked Washington. Growing up, Anong learned all of her cooking skills right at home and has been able to bring that homemade feel to the dishes offered at Thai Smiles.
"Every day, I saw my mom and my sister cook everything," Anong says, adding that the Thai Smiles recipes are all very much Thai in flavor, but are modified to best suit the palettes of the customers.
Thai food is traditionally much more spicy than many people in the region are used to and Anong has been able to tweak recipes so they can be enjoyed by everyone.
Something special about the menu is that Bob liked coming up with new dishes and Anong enjoyed creating them with him. A couple of the signature dishes that Bob helped create are the peanut curry dish and the sweetly named "Happy Marriage" dish, which has scallops and prawns sautéed with sweet chili sauce, basil, and garlic with carrots, broccoli, and steamed cabbage.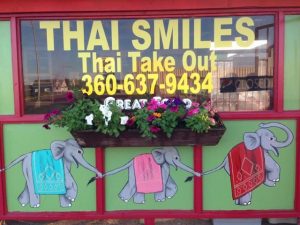 Some of the most popular dishes at the restaurant are pad Thai, cashew stir fry, garlic stir fry, family fried rice and Thai tea.
The Meaning of Thai Smiles
When Anong and Bob built the business, Anong wanted to have prices and portions that would fill people's bellies without breaking the bank and they have done just that, keeping a menu of affordable meal options. Another one of their goals was to make customers smile, which is how Bob came up with the name.
"In Thailand, they have a name for the islands that says 'a thousand smiles,'" Salita says. "Meaning, if you go to Thailand, the first thing you will see is the big smiles that mean welcome."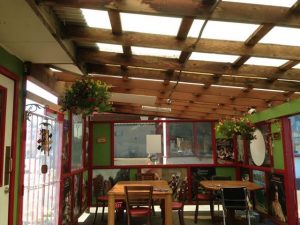 Another reason for the continued smiles at Thai Smiles is the addition of a new baby to the family. Warrior, Anong's grandson who lives in Thailand that she was able to visit and who was also able to come to Aberdeen to visit, is now six-months-old.
"I think he keeps her strong," Salita says. "Now we have a great family and an adorable grandson to keep her happy. There's nothing else we could ask for."
The Thai Smiles family welcomes any thoughts and prayers for Anong to fight during her battle with cancer. Anong may eventually relocate back to Thailand where her body fares better with the weather and Salita will continue to run the family business.
For a full menu, visit the Thai Smiles Facebook page and the restaurant can be reached at 360-637-9434.