One of the greatest seasons in the history of Aberdeen High School wrestling came up one win shy of perfection as sophomore Tatum Heikkila lost in the finals of Mat Classic XXXI.

Heikkila, who won her first 24 matches this year with most coming via lightning-quick pins, lost to defending champion Ofa He Lotu Tuifua in the finals of the 190-pound division at the state girls' wrestling tournament at the Tacoma Dome on February 16.
"She's disappointed now, but she'll look back on it and realize just how amazing she did here," Aberdeen girls wrestling coach Craig Yakovich said. "She came in undefeated and had beaten everyone here. Obviously, she felt like (the state title) was going to be hers. The outcome didn't go her way, but she's got two more years and she's come a long way in a short period of time. The ceiling is as high as it can get for her."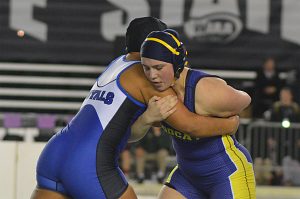 Heikkila finished the season with an impressive record of 24-1. Her runner-up performance helped the Bobcats finish seventh overall in the girls standings with 75 points. Union captured the girls state title with 135 points, while White River (114) and Hanford (107) finished second and third, respectively.
Heikkila entered the state tournament as the top ranked wrestler in the 190-pound division. She earned that distinction after pinning Tuifua in the finals of the Lady Jag Kickoff Tournament on December 1. Heikkila would win five tournaments during the regular season and the District 4 North girls sub-regional championship to take a spotless 20-0 record into state.
Tuifua, who is also a sophomore and defeated Heikkila in last year's state semifinals, captured her second consecutive state crown by winning the rematch in the state finals by pinning Heikkila in 2 minutes, 37 seconds.
"They wrestled a couple times last year. They wrestled a couple times this year. They're both sophomores. There's going to be two more years of it," Yakovich said. "You have two highly touted girls going at it. Both are already nationally ranked. It's a war and we will welcome it for two more years."
Heikkila needed just 38 seconds to pin Hanford's Grace Nelson in the state semifinals. It was her fourth straight victory by pin at state.
Remarkably, Heikkila, who finished fourth at state as a freshman and is also a member of the Bobcats' swimming and diving team, has only been wrestling for a little more than a year.
Her initial plan was to bowl during her freshman year, but she opted to give wrestling a try at the last second. It proved to be a wise decision as few have been as dominant in the state over the last two years.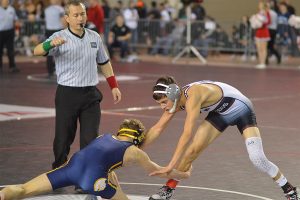 "Most people started wrestling in junior high or elementary school and she just decided to try it in high school and came out," Yakovich said. "She spent some time in the off season freestyling and that's really helped her develop. She's a naturally gifted athlete, but also comes out and works hard every day. She's still very new to the sport. So it's going to be exciting to see what she does over the next two years."
Heikkila was one of three Aberdeen girls to place at the state tournament. Junior Ciera Skelly finished eighth in the 135-pound weight division, while senior Savannah Chandler, who lost her opening round match, finished seventh in 140.
Chandler's run toward a medal featured four consecutive victories in loser-out matches.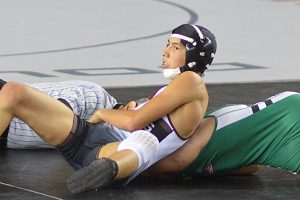 Aberdeen also had a state placer in the boys tournament as sophomore Jeremy Roberts posted a fifth-place finish in the Class 2A 113-pound division.
Montesano had a trio of wrestlers place in the 1A state tournament. Senior Andy Fry became a three-time state placer after registered a seventh at 106 pounds. Fellow Bulldog wrestlers Aaron Lano (120) and Kai Olson (195) finished eighth and third, respectively.
Olson, a senior who finished fourth last year, defeated Peyton Watts of Castle Rock, 4-2, to earn the third-place medal.
Hoquiam received a seventh from Antonio Garcia (145) and a sixth from Brady Cummings (160), while Elma senior heavyweight Alejandro Hernandez claimed eighth place.
In the 1B/2B state tournament, North Beach's Garrett Armbruster was fifth at 126 and Ocosta's Tucker Deranleau was sixth at 220 pounds.