According to the National Institutes of Health, 16 million Americans suffer from chronic obstructive pulmonary disease (COPD), which includes both chronic bronchitis and emphysema. Another five percent of Americans suffer from asthma. Millions more suffer from lung cancer, pneumonia, acute respiratory distress and other lung diseases.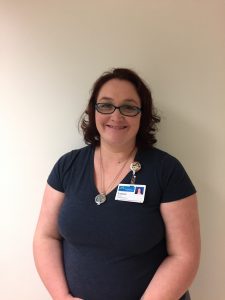 "Breathing is one of those things that deeply impacts your quality of life," says Valerie Norwood, director of cardiopulmonary and cardiac rehab at Grays Harbor Community Hospital (GHCH). "Our therapists support the respiratory needs of the community at large, from babies through geriatric patients. We provide 24-hour coverage, 7 days a week, 365 days a year."
Norwood heads a department of 19 skilled respiratory therapists who provide both inpatient and outpatient services. The therapists are on hand any time there is a question of respiratory distress, whether it be a baby with respiratory syncytial virus infection (RSV), an accident victim with a chest wound or a patient with chronic bronchitis.
Outpatient Services
In addition to providing respiratory care for hospital patients, the respiratory therapists provide outpatient care. For instance, a primary care provider may request a stress test and pulmonary function test for a patient experiencing chest pain or shortness of breath.
"Your heart sits in the middle of your lungs," explains Norwood. "Sometimes what feels like chest pain could actually be a breathing problem, so the doctor will order both tests."
During the appointment, respiratory therapists will ask a series of questions to help patients determine the root cause of the problem. They will also likely conduct a series of noninvasive tests to see how well the heart and lungs are functioning.
"There is a huge educational component to what we do," says Norwood. All of the information presented can be overwhelming to a patient. Consequently, therapists take time during appointments to provide breathing tips and discuss lifestyle changes that can affect cardiopulmonary health. Inpatients also receive follow-up calls at home after discharge.
Tips for Better Breathing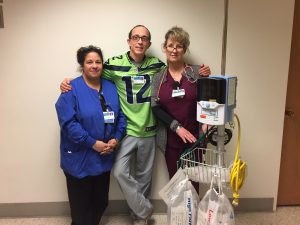 Much of the education the therapists provide revolves around helping patients more easily accomplish functions of everyday life. That education may include tips like the following:
Pursed lip breathing – This technique can help patients improve their breathing and lung mechanics. This is especially important for people who suffer from COPD. Pursed lip breathing involves breathing in through the nose and exhaling through pursed lips, as if blowing on hot soup.
Huff cough – This is helpful for patients who have a difficult time coughing effectively. Because it is a low-pressure cough, it is particularly useful for elderly or postoperative patients, as well as for patients with COPD.
Spacers for inhalers – Studies have shown that patients who use spacers with their L-shaped inhalers get 75 percent more medication per puff than those who do not use a spacer. The spacers, which must be specifically prescribed, direct medicine to the lungs more efficiently.
Food choices – Even food choices can affect lung health. For example, patients who produce a great deal of mucous should avoid diary, while patients with carbon dioxide retention problems should avoid processed meats.
The American Lung Association and the COPD Foundation are also excellent resources for learning about lung health and cardiopulmonary diseases.
New Technologies Enhance Care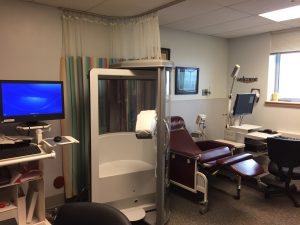 The Cardiopulmonary Department at GHCH has recently implemented new technologies to help them provide state-of-the-art care for their patients. For example, the new Holter monitor is a far cry from the big, bulky contraptions used previously. Small and self-contained, it fits under the patient's clothes and can even be worn in the shower.
"Previously, we could only monitor for 24 to 48 hours," says Norwood. "This patch monitors a patient's heart continuously for up to 14 days. This is particularly helpful for patients with palpitations or some irregular heartbeat that they only feel every now and again."
Another new technology that respiratory therapists have used with great success is the Vapotherm high flow unit. This system has proved immensely helpful in rescuing patients in acute respiratory distress in a way that is both more comfortable and less invasive than other treatments.
When Should You See a Respiratory Therapist?
When you find yourself making lifestyle changes to make breathing easier, that can be a clue that it is time to check in with your doctor and seek respiratory therapy. Perhaps you have stopped taking the dog for a walk, or you avoid walking up stairs because the stress makes you short of breath.
The respiratory therapists at GHCH can help determine the root of your difficulty and guide you to solutions that will improve your quality of life.
Sponsored