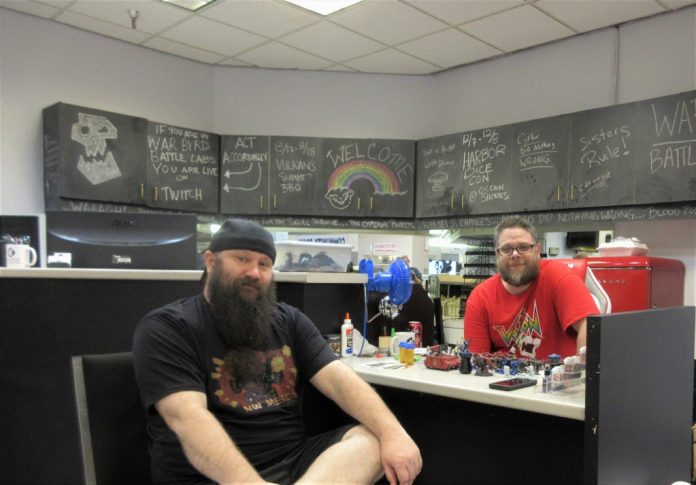 Did you know that Grays Harbor has become a statewide tabletop gaming hub? Jason Byrd, owner of War Byrd Battle Labs in Aberdeen, attributes this phenomenon to the welcoming nature of Grays Harbor Tabletop Gaming, a group he started together with his gaming friend Luke Tackett in 2016.

Grays Harbor Table Top Gaming meets twice weekly in a backroom at GameFreaks, Aberdeen. Owner Brian Morrill was instrumental in launching the group going above and beyond offering them space in his store. His support included paying for the wood of the tables the group built and starting learning leagues.
"Gaming gets people of their phones and computers," says Jason. "We are nerds. Gaming is a way to interact socially for introverts. You meet someone with the same interest and can talk about the game." He stresses that Grays Harbor Tabletop Gaming is an extremely welcoming group always willing to help newbies find their way in the complex world of gaming. "Many of the kids who hang out here would otherwise get into trouble," he adds.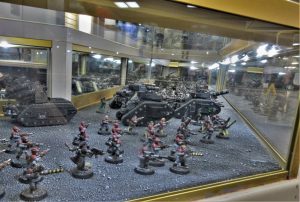 Since 2016, Aberdeen has grown into a premiere tabletop gaming tournament location. Regular events take place at the GameFreaks store. The size of tournaments has grown from 8 players to between 30 and 40. In December, a large tournament called Harbor Dice Con 2019, organized by Jason Byrd and crew, is going to take place at the Ocean Shores Convention Center.
You may never have heard of table top gaming and wonder what the fuss is all about. Tabletop gaming has been described as board games on steroids. As the name indicates, the games are played on a large table on a standard six by six foot board called the battle ground. The games are battles fought by armies of intricately designed game pieces. The battle ground is quite realistic. A battle ground resembling the ruins of a medieval castle is set up at War Byrd Battle Labs. The board is covered with a mat realistically printed with remnants of castle floor tiles and rock.
"The material is the same mouse pads are made of. It takes printing well," Jason's business partner Keone Young explains. The ruins are large, realistic-looking plastic structures. As in classic board games, players throw dice to determine the moves. But instead of one single game piece, players move entire regiments which may hide behind walls or capture positions much in the way a real army operates. A measuring tape is used to determine how much ground has been won. Players interact much more than in a classic board game. They discuss moves and strategies. This lively interaction is one of the reasons players feel attracted to table top gaming.
Players have a lot to talk about because the games are played in a complex fictional universe described by the lore. Grays Harbor Table Top Gaming mostly plays a game called Warhammer, which began in England in the 1970s. It has since become the top game in the field. Currently gamers are playing the Warhammer 40,000 version. The number refers to the year 40,000 in the War Hammer universe history. Periodically gamers move forward to a new era in the history of the game universe. The game's substantial rule book contains the lore of the Warhammer world. It describes the political situation, the people, creatures, armies and lead characters and it explains what they can do. Players must know the content of the rule book in order to play.
The Warhammer universe is an extremely dark world of horror. Humans and other species live in an oppressive dictatorship where even the good guys are not very good. The Warhammer lore started out in the fantasy genre, but has since moved into the arena of science fiction. The game pieces are reminiscent of Star Wars, but leaning more toward the dark side. Armies of small, roughly identical figures such as space marines measuring about two inches in height make up the bulk of the combat forces. They are led by much larger, intricately designed characters, three to four inches high. The nature of the lead characters ranges from heavily armored humans over mechanical robot types to repulsive monsters with body parts in strange places.
Game piece parts are purchased as kits in sprues of gray plastic and must be assembled by the players. In order to customize their armies, players must paint their pieces, which is where War Byrd Battle Labs come in.
Jason Byrd and Keone Young offer customized painting to gamers who don't want to tackle this painstaking job themselves. They also create plastic board props in their 3D print shop. Fascinating Warhammer armies inhabit glass display cases in the shop. The studio is located in the Shoppes at Riverside mall in Aberdeen and is just as welcoming as the folks meeting at the Game Freaks store. Just drop in for a chat.
Grays Harbor Table Top Gaming meets Tuesday and Thursday at 6:00 p.m. at GameFreaks, 2616 Simpson Avenue, Aberdeen. Visit the GH Tabletop Gaming Facebook group, the War Byrd Battle Labs and the GameFreaks Facebook pages.