Do you love pottery? Are you a connoisseur, a collector, or itching to get your own hands into clay? The Grays Harbor Potters Guild has a beautiful gallery and studio at 2222 Simpson Avenue in Hoquiam where you can admire and purchase the work of the nine guild members. However, the primary mission of this enthusiastic group of potters is to bring their art to the community, to welcome the Grays Harbor public into their studio to explore the wonderful world of clay.

The founders of the brand-new Grays Harbor Potters Guild have migrated from Studio Six of the North Beach Artist's Guild in Ocean Shores. "We decided to change our business model to focus more on teaching, "explains Vice President Gary Ganz. "We needed a more central location than Ocean Shores. We left friends with the North Beach Artists Guild and I am still a member."
The nine guild members represent a microcosm of the multi-faceted world of pottery. Their work represents many different styles. "We are like-minded people coming together and have fun, "says Evelyn Cheung, who represents the Guild's communication committee together with Lyn Nelson. "We are very different people with different backgrounds and goals, but pottery draws us together.
The beautiful gallery showcases an array of work created by nine very different personalities. Clay can be shaped in many different ways.  Sandy Early and Gary Ganz are both masters of the craft of wheel throwing. Early has over 30 years of experience in throwing pots and ceramic techniques. Her "Trees of Grace" Aspen series shows her delight in recreating the texture and color of nature. A copper-colored raku container showcases her mastery of glaze techniques: A potter may use up to four layers of glaze.
Lyn Nelson is another glaze master. Her seahorse-shaped vase, her signature piece, displays subtle layered shades. The deceptive simplicity and elegance of Ganz's vases and pots are the result of 28 years of training. Ganz learned the craft on Hawaii and employs Asian-style firing methods like saggar and Japanese raku.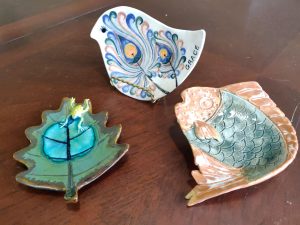 Guild President Pam Otteson is currently working on what she calls a totem employing the balloon technique. Spheres with different surface patterns will be mounted on a pole. "This is what happens when you wrap balloons in clay," she comments. Cheung, who immigrated from Hong Kong, creates delicate, playful pieces. Small bowls in whimsical shapes are decorated with colorful, hand-painted designs. Others are inhabited by tiny frogs or snails. A leaf-shaped dish receives added color and texture from fused stain glass.
The gallery also displays non-pottery items by the Guild's multi-media artists such as Cindy Dana's vibrant alcohol-ink ceramic tiles. A wooden rack holds painted canvas reversible runners and alcohol-ink-dyed silk scarves by Melanie Knight.
Get Involved with the Guild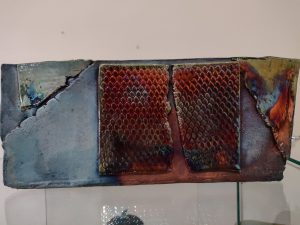 To introduce the craft of pottery in all its glorious variety to the community, the guild is hosting two community programs. The curious of all ages are invited to Claymates, which are free, open shop hours for fun and conversation while exploring clay. Early will be on site to facilitate, offering different projects each week.  Supplies are provided and visitors can try out any clay techniques they are interested in. Their creations will be donated to the Guild for fundraising.  Claymates is funded through the Grays Harbor Community Foundation.
For those who desire formal training, Early will teach the Pottery 4 All program. Classes run for six weeks with clay, glazes and firing included in the fee. If you are interested in joining the Guild, you can become a monthly member or purchase a punch card.
Fundraising is a priority with the newly founded (501) (c)(3) charity. To finance operation and the community programs, the Guild opened its doors last December with a successful holiday crafts sale. In spite of COVID-19 restrictions, many Harborites attended and shopped for gifts created by Guild members and other local artists.
Cheung inspired a fundraiser to celebrate her native Chinese New Year traditions. She has donated several pottery items in honor of the Year of the Ox. You can secure one of these signed and dated originals by donating $25 per raffle chance.
The Grays Harbor Potters Guild invites children and adults to come and play with clay. Experienced potters looking for a community are very welcome. The Guild is also looking for volunteers to work in the gallery in order to extend regular opening hours.
At his time, please look for the open sign on the door and knock. Potters are working in the studio during most of the week and will let you in.
The Hoquiam Potters Guild is located at 2222 Simpson Avenue in Hoquiam. Call Sandy Early at 303.445.5142 to sign up for programs. For other questions call 360.580.1673 or email graysharborpottersguild@gmail.com. You can also follow the Grays Harbor Potters Guild on Facebook or visit the Grays Harbor Potters Guild website for more information.