We all know police officers have a tough and often dangerous job. We also hope situations involving police and suspects can be deescalated without injury to either party. Adopt A Cop BJJ is a nonprofit organization that "allows active duty patrolling police officers around the country to train at any Adopt A Cop BJJ affiliated academy and will pay 100% of the officer's membership until they reach the rank of Blue belt." Grays Harbor Grappling Academy in Aberdeen has become an affiliate gym in order to offer the program to local police officers.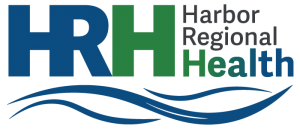 Adopt A Cop BJJ believes: "Often times police find themselves in combative situations that can turn deadly and during these times being the more skilled grappler can potentially save the lives of not only the officers but the suspects as well.
"If police felt more confident in their abilities to control potentially combative situations, they would be less likely to draw their weapons out of fear for their own safety."
Brazilian Jiu-Jitsu is a great martial art for this scenario, as its techniques allow a fighter to take control without injuring their opponent. It's based on ground fighting and submission holds and was developed in 1920 in Brazil.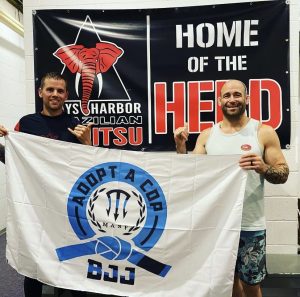 Born and raised in Hoquiam, Joe Marchie started Grays Harbor Grappling Academy in July 2018. He has a black belt in Brazilian Jiu-Jitsu. He found out about the Adopt A Cop program through Rob Verboomen, a police officer that already trained with Marchie. "I looked into it and applied to be an affiliate academy right away," Marchie says. "With officers it is difficult for them to train at some academies due to the times the classes are offered and for some there is a financial barrier."
Marchie offers classes seven days a week at various times, including 5:30 a.m. on Tuesday and Thursdays, and 12 p.m. and 6:30 p.m. on Monday, Wednesday and Friday. This helps officers take a class around their work schedule. The Adopt A Cop program has removed the financial barrier for some since he started offering it May 2021.
Police Officers with the Adopt A Cop program go through the same training as regular students. "The officers are just like every other student in the academy," shares Marchie. "They learn the same material at the same pace as anyone else would learn it." To obtain a blue belt, it takes between 12 to 18 months of training.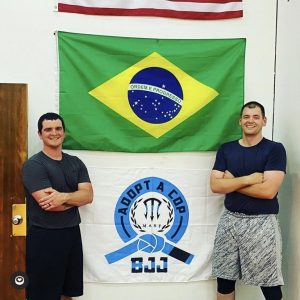 Marchie says any officer is welcome to apply for the program, and that includes sheriff and tribal police. The officers need to be active duty. Officers must attend at least one class a week according to the rules set by the Adopt A Cop BJJ. "We've already had a few local officers join and with all of the changes facing law enforcement we feel it's so important for our officers to have more resources for non-lethal force to protect themselves and our community," explains Marchie.
If you are interested in learning more and signing up for the program, visit the Grays Harbor Grappling Academy website and the Adopt A Cop BJJ website.
If you are not an officer, you can help by making a donation to the Adopt A Cop program. They are a registered 501(c)3 nonprofit, so your donation is tax deductable. You can ask them if you would like to sponsor a specific police officer or academy, like our local Grays Harbor Grappling Academy. Donations can be made on the Adopt A Cop BJJ website.