Margie Philbrick, whom many Harborites fondly remember from many years of story time at the Aberdeen and Hoquiam Timberland Libraries, celebrated her 80th birthday with the best gift a retired librarian could wish for: her own Little Free Library, mounted in front of her home. The pretty blue book shed is registered with the Little Free Library organization and dedicated, very appropriately, to the Aberdeen Review Club, a book discussion group with a long history.
Little Free Library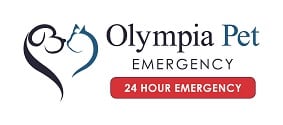 is the world's largest book sharing movement, a nonprofit organization with over 100,000 libraries. Booklovers intending to become a steward, need to set up an outdoors Little Library shed, fill it with books and register with the organization. They can purchase American-made sheds or kits at the Little Free Library online shop, or build their own. Registration will put the Little Library on the organization's searchable map. Under the motto of the Little Free Library movement, neighbors are invited to "Take a Book, Share a Book".
Margie Philbrick had seen the Little Libraries in magazines and around town. When her 80th birthday approached on June 5, 2021, she purchased an Amish- built Little Library with two shelves and mounted it in front of her home on 521 Westerly Drive. Her neighbors were delighted. One of them, Stefani Hardy suggested a christening party. The Little Library was solemnly christened with a bottle of champagne. A happy congregation of Westerly Drive residents brought snacks to share and even a balloon. It is hard to imagine a more fitting birthday celebration for a librarian.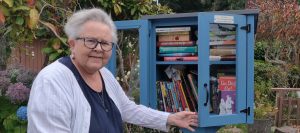 Margie Philbrick is a lifelong Grays Harbor resident and lover of books. She worked as children's associate in the Timberland Regional library system for 30 years: 10 in Aberdeen and 20 in Hoquiam. Generations of children remember her popular story times and other youth activities. Margie retired in 2007. Now she enjoys sitting in her front yard, watching the foot traffic in her quiet residential neighborhood. "When I see a kid on a skateboard, I call out to him to get a book," she says. "The other day I saw the UPS driver look at the library. He did not take anything, so I wonder what kinds of books men like. I try to have something for everybody."
Little Libraries are wonderful community builders. A former colleague of Margie's, retired Aberdeen Timberland Library Circulation Assistant Shane Reinertsen, became a Little Library steward a year and a half ago. "There is quite some traffic now that people have discovered the library," she observes. "They come by in their cars and get books. Some even leave painted Grays Harbor Rocks." Like Margie, Shane receives many book donations. She keeps them in a bookcase and exchanges items that have not moved in a while.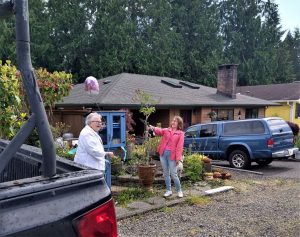 Margie is a member of the Aberdeen Review Club and receives many of her book donations from fellow members. She has dedicated her Little Library to this historical women's organization, which is documented with the State of Washington as its oldest cultural club still in existence. The organization was founded on March 3, 1891, for the purpose of reading and discussing good books.
Another venerable local nonprofit, the Rotary Club of Aberdeen, was inspired by another librarian, retired Aberdeen Library Manager Christine Peck, to initiate a Little Free Library project in celebration of their 100th Anniversary. "Part of our focus is youth, education and literacy," explains former president Lisa J. Smith. "We partnered with the Aberdeen High School carpentry program to build four Little Libraries. They were completed by the end of the school year and are now waiting to be installed. Two will be placed in Aberdeen parks. We are looking for private home owners in Aberdeen, Central Park or Cosmopolis to adopt the other two." The Rotary Club will provide the books for the Little Libraries. Here too, donations are flowing in. The Aberdeen Daily World has graciously provided storage until the books can be placed in their libraries. The Rotary Club is considering an extension to the program with four more Little Libraries.
The number of Little Free Libraries it growing in Aberdeen. Their locations can be found on the Little Free Library online map. At this time there are five locations in the Aberdeen area.  Would it not be wonderful to have some in other Grays Harbor towns?
Find Aberdeen Free Little Libraries on the searchable online map. If you are interested in hosting one of the Rotary Club libraries, call Lisa J. Smith at 360.580.9404 or email lisajsmithphr@gmail.com.