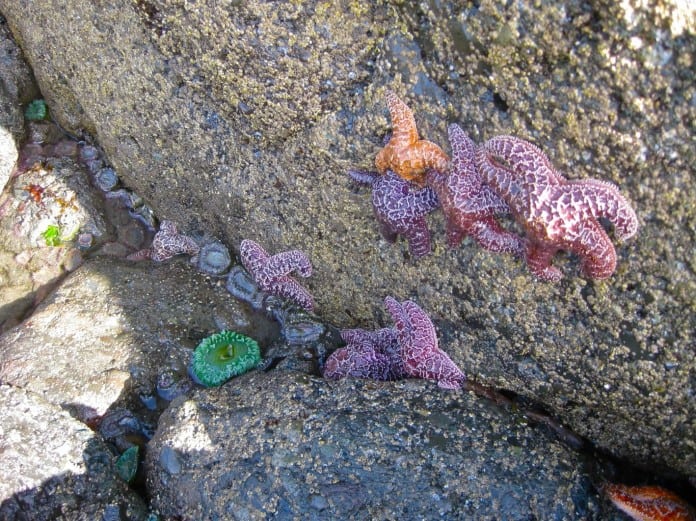 By Douglas Scott
Tide pools. We know them, we love them and we enjoy touching the creatures inside them. They are microcosms of the ocean, miniature sea-stacks with disproportionately-sized oceanic wonders lining the mussel and barnacle flanked walls. At low tide, children and adults flock to the rocky shoreline of the Olympic Peninsula to see starfish, crabs, sea anemones and more. Exploring tide pools is what we do on the beaches of Washington State and we have some of the best in America.
From Kalaloch to Cape Flattery and nearly every stretch of coast in between, the tide pool areas of the Olympic Peninsula and Olympic National Park are waiting to be explored. All up and down the remote beaches filled with driftwood and sea stacks, rocky outcroppings full of sea life appear with each low tide. As the water recedes, visitors to the region have an opportunity to see a world normally covered by the choppy, constantly churning Pacific Ocean. With each inch the tide drops, the small ocean habitat comes more and more alive, exposing the wonders of the Ocean.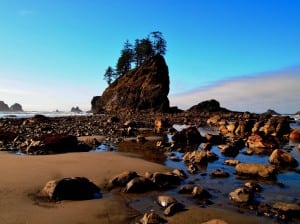 With 3,026 miles of tidal coastline to explore in Washington State, finding the best beaches with the best tide pools can be quite a tough job. That is why GraysHarborTalk gives you the four most-impressive tide pool beaches on the Olympic Peninsula. From Port Angeles to Kalaloch, these are the best of the best and the easiest to explore.
Ruby Beach
Directions: http://goo.gl/maps/SxWKs
We start with Ruby Beach, as it is the most accessible and quite possibly the best known. With Abbey Island looming large at the mouth of the Cedar Creek, the tide pools around the rocks and sea stacks around Ruby Beach are quite impressive. With mussels and barnacles nearly covered by high tide, the tide pools are quite sharp for those thinking they should walk them barefoot.
Besides these soft shelled creatures, green sea anemones and starfish of every color sit in pools of salt water. Small crabs are visible, as are the resident otters that live near Abbey Island.
For additional information, click here.
Kalaloch Beach 4
Directions: http://goo.gl/maps/uJeCS
Beach 4, located between Kalaloch Lodge and Ruby Beach is not only a fantastic place to escape the crowds at the Ruby Beach tide pools, but it is also a geological wonderland.
Along the shore, where the bluffs meet the beach, differing bands of sediment and rock are exposed by the tidal action, reading like a book of geological history, right on the beach. Once you are done looking at the lines of history on land, head to the rocky areas to explore more fantastic tide pools full of the same types of life as Ruby Beach. These pools are more spread out and unlike Ruby Beach, walking here during a really low tide only exposes more tide pools and ocean wonders.
Additional information about Beach 4 can be found here.
LaPush Beaches
Directions: http://goo.gl/maps/kCxhf
The beaches of LaPush, best known as Hole-in-the-Wall, Second Beach and Third Beach all have amazing sea stacks and great tide pools to explore for hours on end. The beaches of LaPush are iconic not just for their tide pools, but also their rugged beauty, amazing sunsets and frequent whale sightings.
While it might be hard for some to tear their eyes off the stunningly gorgeous panorama, the tide pools at your feet are a hotbed of activity. From crabs darting to sea anemones closing themselves around pieces of food that drift into their openings, these tide pools are great to watch, touch and study. Starfish flank the rocks, holding on tight against their now dry surroundings. All around, clams squirt along the sand and the mussels and barnacles sit stoically, waiting for the tide to rise so they can eat.
Hours can be spent at the beaches of LaPush that seem like mere minutes, as it is easy to get swept up in the beauty and activity of the amazing region.  Click here for more details.
Salt Creek Recreation Area
Directions: http://goo.gl/maps/HYTLE
Salt Creek may be on the Strait of Juan de Fuca, but that shouldn't take away its draw as a tide pool attraction. Jutting out from Crescent Bay, just west of Port Angeles, Tongue Point appropriately to its name, sticks out into the Strait from Salt Creek Recreation Area. Tongue Point Marine Life Sanctuary sits on the rocky shores, its tide pools deemed world famous by marine biologists and tourists alike.
What makes this unique to this list is that this tidal pool region is all connected. Where the other beaches had sections of tide pools, Tongue Point at Salt Creek is one continuous tidal pool area. Tongue Point allows you to walk along the often slick, but always active point and see a few thousand square feet of tide pools, each as different as the last.
With starfish, sea anemones, mussels, crabs, barnacles and more, exploring tide pools at Salt Creek Recreation Area might be the best tide pool experience in the state.
Find more details on Tongue Point at Salt Creek by clicking here.
Safety
Before you head out exploring these fantastic tide pools, make sure you brush up on your tide pool safety and etiquette.
You are encouraged to touch the objects in tide pools, but remember these three simple rules:
Touch gently,
Do not pry and
Observe rather than capture.
When walking around tide pool areas, remember to watch closely for sneaker waves and the returning tide. The rocks also may be quite slick from algae and seaweed, so use extreme caution while exploring. Don't jump around on the rocks; instead walk gently, as you might be stepping on living creatures. Also, make sure you are wearing appropriate clothes and shoes, as they will get wet and sandy. Finally, always check the tide charts before starting your trip to the ocean. You don't want to get to the beach as the tide is coming in and miss out on all the tide pool action!
Additional help in understanding, exploring and finding tide pool areas can be found on the Olympic National Park website: http://www.nps.gov/olym/planyourvisit/tidepool-activities.htm.
All photos courtesy Douglas Scott.