By Douglas Scott

Walking along the beaches of our coast is a timeless tradition. With a steady beat of waves providing the beat to a soothing soundtrack, striding the beaches of the Pacific Ocean allows us to reconnect with nature. As the storms of the winter die down, the swells of the sea push long-since-forgotten treasures to the shore. From polished rocks, petrified wood, intricate shells, to glass floats, tsunami debris from Japan or even mysterious creatures from the deep, beachcombing rewards those who choose take a stroll on the beach.
The sandy shores in Grays Harbor County are well-known for their fantastic beachcombing, something many of us locals haven taken advantage of in our lives. Growing up near the beach, I was lucky enough to have a family that encouraged me to get out and walk the beach after storms, peering down along gravel bars, hoping to find an agate or a large piece of petrified wood. With seagulls overhead, seals peering out from above the swells, I, like many others walked the beaches, hoping to find a natural jewel.
Grays Harbor has over 50 miles of beaches, making it a beachcombers wonderland. With choices of rocky beaches, sandy sections, or a blend of both, finding the perfect beach to comb can become overwhelming. Luckily, five beaches in the region offer great opportunities for beachcombers of all ages. From Pacific Beach to Grayland, the ocean's treasures are just a few miles away.
Damon Point in Ocean Shores
Best known for having numerous gravel bars along its four miles of beaches, Damon Point is ideal for those looking for agates, petrified wood and the occasional glass float. As a personal favorite, Damon Point also offers stunning views of the Olympic Mountains and some of the best bid watching around. Your best days for beachcombing will be after a storm, as the power of the waves turns over the rocks and washes up fun finds up and down the beaches. While you may occasionally find something on the harbor side of Damon Point, the majority of your discoveries will occur on the ocean side. After a storm, get here early, as it is quite popular.
Griffiths-Priday Ocean State Park
Often overlooked as a beachcombing destination, the beach along this state park gives those walking it numerous sections of gravel to look over, as well as a location for any number of types of flotsam. Located at the mouth of the Copalis River, the beach at Griffiths-Priday Ocean State Park also receives a large amount of rocks and shells, making it ideal to find large agates, petrified wood and even pieces of quartz crystal. The best time to be here is a few hours before the first low tide after a storm, as it increases the likelihood to find something new.
Grayland Beach State Park
With occasional sections of rocks and gravel, as well as being located in the middle of Grays Harbor and Willapa Bay, Grayland sees its fair share of beachcombing opportunities. While agates and shells can be found, keep an eye out for washed up creatures of the sea, as well as flotsam of all shapes and size from all over the world. Get here early after a storm to find the best beach treasures, as it can get quite crowded and even competitive.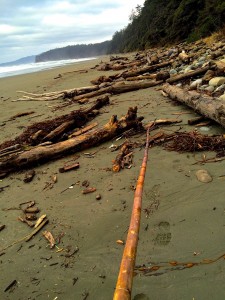 Roosevelt Beach
Often overlooked due to it's remote location, Roosevelt Beach, just south of Pacific Beach, has just enough wash up along its rocky section of coast to make this a place for unique and rare finds. After large storms, hitting Roosevelt Beach can reward you with flotsam of all sizes and shapes, shells, and even the occasional agate. As eagles circle overhead, Roosevelt Beach gives great chances to find the illusive glass balls.
Westport Light State Park
While not the best of site for beachcombing in Grays Harbor, Westport Light State Park's close proximity to town makes it a desirable and convenient place to go for those in the area. With enough potential to find shells, agates and even awesome floats, overlooking this beach would be a mistake, as many locals have found their most prized treasures along this popular stretch of the beach. If beachcombing here, your best bet it to get here as early as you can and follow the tide out.
Learn More About BeachCombing
If you are curious as to what sorts of treasures you can find on the shores of Grays Harbor, the Westport/Grayland Chamber of Commerce is holding the a beachcombers fair on April 4-5. At this event, you can not only chat with local beachcombers, but you can also see amazing driftwood collections and a glass float round up.