Submitted by Grays Harbor Community Hospital
Congratulations Anne Henderson, ED Nurse, for being the 2015 Grays Harbor Community Hospital (GHCH) Lighting the Way Legend winner!
The Lighting the Way Legend winner is chosen from the 12 Beacon Award winners. These individuals are chosen by their peers based on the GHCH standards and values developed and agreed upon by staff. Our values are Respect, Integrity, Compassion, and Excellence. Winners also represent the 7 Gold Standards of Communication; Accountability, Professionalism, Teamwork, Ownership, Service, and Safety. Not only do they inspire and motivate us, they make GHCH a great place to work.
In a ceremony hosted by the Employee Recognition Service Team, Anne was awarded the prestigious honor surrounded by co-workers and friends. Her Director Brian McCann, CEO Tom Jensen, and CNO Cynthia Walsh all shared reasons why Anne was an excellent choice for this award. Anne clearly represents the Lighting the Way Legend and the "best of the best" by going above and beyond to truly light the way for others.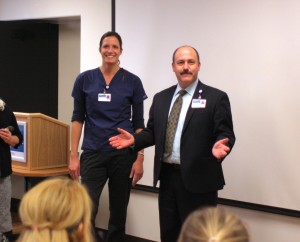 Here is what people who work with Anne had to say about her: "Anne is always professional, always treats her patients and other staff with compassion. I have enjoyed working with her. She is a great team player. I feel that my daughter having Anne as a nurse in the ED was like winning the lottery for us. Anne took a horrible situation for us and made it OK. Anne is always hard working, caring about not only her patients but her colleagues as well. Her dedication to GHCH shows daily. Anne always has a smile and a kind word for patients. Her compassion for her chosen career is obvious to all who come in contact with Anne. She is a genuine beautiful person, inside and out with a huge heart."
Anne's Manager, Brian McCann responded with "Anne is an exceptionally wonderful intelligent nurse. I'm so impressed by her understanding of the ED patient experience. She has come to me many times to discuss possible solutions to patient issues that most nurses wouldn't and have not had a concern over. To her, nursing is her passion! She has a huge heart that she extends to all. I wish I had 10 more nurses like Anne. The ED would truly be the best department in at GHCH if I did."
Congratulations Anne on this amazing accolade. Thank you also to the Employee Recognition Service Team for organizing and putting on this excellent event.
Previous Lighting the Way Legend Recipients
2007 – Ron Oman, ARNP, Hoquiam Clinic, (Formerly RN, Education Dept)
2008 – Jim Reibel, Housekeeping
2009 – Janet Walden, RN, Medical/Pediatric Unit,
2010 – Guilla Rueda, Nutrition Services
2011 – Sandee Chism, HarborCrest
2012 – Dusti Hollers, Laboratory
2013 – Shara Hedgpeth, Social Services
2014 – Amy Ballard, Social Services