At the same moment, Roger Elliott is both dad and coach.
As Elma High School's fastpitch team plays Tenino in another 1A Evergreen League game, Elliott watches with dual interest, instructing and encouraging. His daughter, Peyton Elliott, is an all-league catcher and a leader on the team.

As the Eagles play through another season, these are moments Roger will forever cherish, times he's sharing with his daughter that he'll treasure. But for now there are also moments he endures. Wearing both hats, being dad and coach, sometimes brings conflict.
"It's fun," Roger said with a chuckle. "We go through our struggles sometimes."
For Peyton, a determined played who loves to win, she says being the daughter of the coach has some good moments and some not so good moments.
"It's good and bad," Peyton said with a smile. "Sometimes it makes things easier having him here and sometimes it's annoying because no one likes to listen to their parents."
It's hard separating the two voices. Is it dad talking or coach?
"You can't listen to your dad, but you have to listen to your coach," Peyton said with a laugh.
Separating the two – okay you're not my dad, you're my coach – is hard. Sometimes that role of coach extends over to dinner conversations.
"Mostly it's about how the game went and what we could have done better," Peyton said.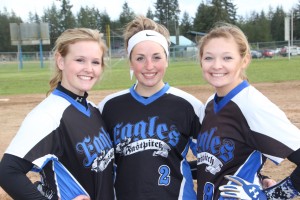 By now, Peyton is used to having a parent/coach. It's nothing new for her. When she was 8 and playing T-Ball, her mom, Kim Elliott, coached her team. However, something Roger has never been accused of is that he starts his daughter at catcher only because she's his daughter. She was the Eagles starting catcher her freshman year, the year Elma won a state title.
"I've never heard that," Roger said when asked if anyone ever said his daughter started only because he was coach. "I'd hope nobody was saying that because she can play. She was the starting catcher when they won state and I was not the coach then."
But this Elma team, with only two seniors in the lineup, can use Peyton's experience. Besides catching, Peyton, a determined competitor, also plays centerfield and pitches. With six freshmen on the team, this is a learn-and-grow season. With two freshmen – Corrina Torres and Destry Dineen – handling much of the pitching, Elma is short on experience on the mound. In a recent loss, Elma walked 10 batters.
"They do the best they can do," Roger said. "They're learning."
Elma's two seniors, Karli Smythe and Emily Anglin, know that as the experienced players who played on the state championship team they have to be the voice of encouragement. They have to be the team's rooters. These freshmen are talented, but they just lack experience.
"Being a captain, we've got to motivate them," Smythe said. "We have talks and we have to practice like we're playing in a game. We're really working on that."
While Elma didn't have any first-team, all-league players last year, they've got five players who were either second-team or honorable mention all-league. Smythe and Anglin were both second team picks. Smythe was second-team at second base, but she's moved to shortstop, filling a void.
"It's tough to learn, but I think I've got it now," Smythe said. "I'm a lot more confident there now."
Next year, Smythe, who is her school's ASB treasurer, won't have to worry about line drives. She'll be focusing on studying at Eastern Washington University, majoring in dental hygiene.
Anglin, who has been on the varsity team since her freshman year, is solid at third base, the hot corner. She's used to the challenge since she's played third base since she was in grade school.
"It can be scary," Anglin said. "You've got to be on your toes."
The challenge is reaction time. Line drives can be like missiles. But Anglin, who'll play softball at Grays Harbor Community College next year, has never taken a bounce to the face. "Thank God I haven't," Anglin said. "But I'm always scared about it though."
Molly Johnson, a freshman playing first base, has been a highlight film. Eight games into the season, she was batting in the high .400s.
"She's hitting really well," Roger said. "But some are struggling. They're hitting the ball. They're just hitting them at people. We'll figure it out."
So, as this season unfolds for the Roger and his Eagles, being dad and coach can be a struggle. But it can also be an insight.
"It can be hard, but then again she helps me out so much with a lot of the stuff too," Roger said. "I can go to her and figure out what is going on with the team. That helps too."
It's a moment Roger will never forget.