Vegetable gardening in a heavily deer laden area like Ocean Shores can be nothing short of impossible. Landscaping is difficult enough, trying to keep up with the ever-changing list of plants deer won't eat. It seems that deer will taste anything, at least once.
Garden by the Sea in Ocean Shores offers a solution that not only lets you grow vegetables, but also increases a sense of community through education and service. The community garden offers a deer-proof environment of tranquility. The closeness of the waves crashing, the comforting atmosphere, and the beautiful labyrinth all lend to the stillness encountered while tending to your own space in the garden.
Garden By the Sea's value statement, "we strive to build community spirit through leadership, the garden experience, education and social responsibility and volunteerism," nicely captures the spirit and work of what is happening in Ocean Shores. While gardening is clearly beneficial to the individual, it also greatly benefits the community.
According to Grays Harbor's 2013 Community Health Profile, only one out of five adults and less than 30% of youth are getting adequate daily servings of fruit and vegetables in our area. This leads to a striking percentage of overweight and obese individuals, in comparison with our Washington State counterparts. In a community where there is a stark reality that healthy, whole, and nutritious food availability and education is lacking, a community garden provides an invaluable asset.
According to the gardeningmatters.org website, community gardens contribute to a plethora of positive outcomes. These include the more obvious, such as an increased consumption of fresh fruits and vegetables, to increased exercise, better mental outlook, and a direct food-cost savings. Not only this, but the gardens provide a strong benefit for the communities. Property values show a direct increase when in the proximity of a community garden, they help bring beauty to the community, and engage our youth through education and service learning.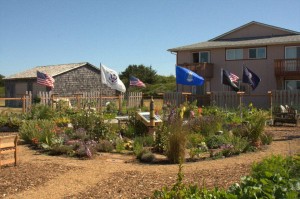 Sushila Ravard is the founder and President of Garden By the Sea. She surprised me when she told me that prior to starting Garden by the Sea, she had never grown vegetables before, but had a background and training in starting a successful non-profit organization. This is a clear call to anyone who thinks they can't, simply because they don't know how to, garden – you don't have to know. All it takes is the desire to create, grow, and get a little dirty. This can be a social outing, or if timed right, a peaceful, healing place of solitude in the sun.
Garden by the Sea is not only a place to grow plants, but it is a center of activity in the community. This year, the organization is partnering with the Master Gardener Foundation of Grays Harbor and Pacific Counties, who will be holding a few plant clinics in the garden. Other events to look forward to include the August Associated Arts of Ocean Shores Paint Out, where there will be music, food, and a drawing. In September, they will hold their 4th annual Kid's Art in the Garden. On Labor Day weekend, they will hold their Master Gardener Garage Sale. There is also a garden tour, salmon bake, and an annual tree lighting event for the holidays. These events naturally lead to education at the garden.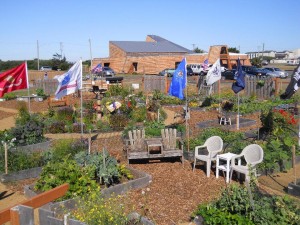 Watch the events page for a variety of lectures on topics ranging from bees to succulents. It is a kid friendly place as well, with a children's garden area. The local Girl Scout troop has their own bed, where they grow food for the Ocean Shores Food Bank.
Bed rental is $25 for the season, with a refundable deposit. The garden asks each gardener to adopt a small area of the garden to care for, such as a part of the labyrinth or planters.
Future projects Sushila is hopeful for include a gazebo that would allow for gatherings of people to get out of the weather. She would also like to see more classes for children and adults. The garden does accept donations to help continue the fantastic work they are doing in the community.
To learn more, visit Garden by the Sea online or call Sushila at 360-593-8720.