As North Beach High School shot put throwers Jonny Law, Tim Poplin and Seth Bridge warm up before their flight at the 56th annual Shelton Invitational track and field meet, the word Hyaks, which is the school's mascot, is prominently displayed across each of their chest in large font.

Ask Law, however, and he will tell you when you are referring to this group of athletes, the "H" in Hyaks is, in fact, silent.
Meet the "Yaks."
It's been a tradition now for three years – a tradition the school's throwers have embraced. If they are shot put or discus throwers – they are Yaks.
"Yaks are big, burly animals," junior Seth Bridge said. "That's why we adopted the name. It just feels natural really. It feels like it's the way it should be."
Seth's father, Todd Bridge, has been coaching throwers at North Beach for 11 years. A few years ago, their training shifted from being just traditional throwers and took on more of an emphasis on agility and quickness.
Weight lifting remained a strong point, but now their workouts included agility drills and stairs. Correction – a ton of stairs, sometimes as many as 100 flights a session.
The group also began to showcase its new swiftness by running as North Beach's 4×100 relay team in JV competition.
It's been a long-standing tradition in the world of track and field to label a relay race featuring throwers as a "fat man relay" or "weightmen's relay." The North Beach athletes viewed this as a put down. They were working just as hard as everyone else, and didn't enjoy being saddled with an inaccurate term.
So, new names were thrown around until finally landing on the perfect moniker.
"I dropped the H off of Hyaks and came up with Yaks," Todd Bridge said. "Jonny one day solidified it. He said, 'Coach, the H is silent.' We all laughed and that was it. Yaks we were."
Successful is what they are.
In recent years North Beach has had four boys throw over 50 feet in the shot and 140 feet in the discus, while three girls have surpassed 38 feet in the shot and 125 feet in the discus.
At last year's Class 2B state meet, the Yaks simply dominated the competition.
Law, Caleb Bridge, and Poplin finished first, second and fourth, respectively, in the shot put, and Caleb Bridge, Seth's older brother who graduated last year, claimed the state discus championship with a throw of 185-feet, 7 inches – nearly 14 feet farther than the runner-up. Seth Bridge took home fourth in the event – the only non-senior among the top four finishers.
It's been more of the same this year. Poplin (53-3 feet), Law (52-9) and Seth Bridge (50-6) are ranked second, third and fourth, respectively, among 2B shot put throwers, trailing only Napavine's Chase Van Wyck, who won the state title two years ago as a sophomore.
Senior Alex Horn, who Todd Bridge calls "the biggest over achiever of the group," is sixth on the shot put list, and junior Ryan Louderback clocks in at 10th, giving North Beach a remarkable five out of the top 10 shot putters in the state.
Seth Bridge currently ranks tops in the discus in the state with a throw of 165 feet. Poplin is fifth and Horn is sixth on the list.
"It's ridiculous. One day someone can be throwing really far and everyone gets motivated, and the next day someone else is throwing the farthest," Law said. "We just keep raising the bar for each other."
While there's plenty of competition among the Yaks, there is little, if any, jealousy as each thrower continues to pull for the rest of their teammates.
"We've all been working together a couple of years now. We've really developed a comradery," said Poplin, who is also Law's cousin. "We've become really good friends. We share a lot of memories. We go a long ways back."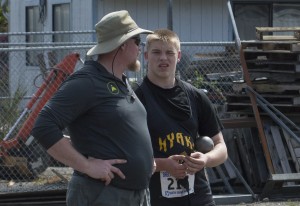 As the regular season draws to an end – the Pacific 2B sub-districts will be held May 11 and 13 and the district meet will take place on May 19 with the top finishers there advancing to the state meet, May 26-28, at Eastern Washington University in Cheney – an individual state championship would be nice for any of the Yaks, but the ultimate goal remains much more team oriented
"We want to win state as a team," Law said. "Last year we got second (at the state meet). The year before we got third. I think a team state title would mean more than winning an individual one again."
And for Poplin, the titles, record-breaking distances and potential team state team, fall a far second behind the experiences gained.
"Just getting to throw with these guys has been amazing," Poplin said. "I can't really specify one moment that I can say was my favorite. It's just the whole thing – practices, meets, state, everything. We've just had a blast these last couple of years. We've thrown together and now Jonny and I will be graduating together. The whole thing has just been amazing."