Dale's Lavender Valley sits on a beautiful stretch of land on Ocean Beach Road, between Hoquiam and the rugged Pacific Coast. It's a popular route for clam diggers and visitors to Pacific Beach and Seabrook.

It's mid-morning on a sunny Wednesday when I pull into the farm. I spot the lavender immediately, planted in meticulously neat rows, growing like big green basketballs as Dale describes them. Later, I learn that she grows a single variety, a French hybrid called Lavendula grosso.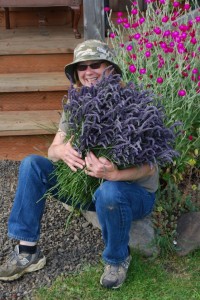 As Dale and I begin to chat, it becomes clear to me that she is more than a gardener turned businesswoman. She is a prolific artist. She asks if she can water plants while we talk. For the duration of my stay, she works as we visit. It is evident that she values time. I am in awe of how much she is able to create and tend, largely on her own.
Her lavender farm did not begin as a business, but rather a hobby that turned into a path for healing. "Lavender is a healing plant," Dale tells me while showing me a gorgeous portrait tattoo. To stay busy after the loss of her son, she began tending lavender.
She talks of nights spent carefully planting tiny lavender plants by the light of headlamps. Neighbors became curious about what she was growing.
She is mindful of keeping her business small and manageable. "I don't want to be overwhelmed," she says, mentioning her kids and grandkids. Keeping the farm manageable allows her to put an incredible amount of attention into the details of everything she makes and grows.
Dale has a knack for crafting, and especially for repurposing things into something beautiful. Combined with her gift for growing lavender, it is easy for me to see how her hobbies transformed into a business. She became a Master Gardener and then obtained a business license a couple of years ago.
"I love details," Dale tells me. She makes sure that the things she makes and sells are things she would buy herself. She uses some lavender for bouquets and the rest she turns into handmade sachets, homemade glycerin soaps, and sprays. Dale doesn't make a huge selection of items, but is rather more focused on crafting a small selection of high quality, finely detailed products that people want to use repeatedly.
Each year you can bet there will be something new to look forward to at Dale's Lavender Valley. Currently she is making succulent boxes. While we talk I watch her work on crocheted bags. She finds inspiration in various places, including nature, thrift shops, and people she meets.
By the end of our visit I feel warmly welcomed and inspired. I cannot wait to visit Dale's Lavender Valley again, to find a little healing, beauty, and inspiration. To learn more about visiting hours and special events at Dale's Lavender Valley, visit her Facebook page.