The English language is full of speed-based phrases we use every day.  Moving at a snail's pace?  Drink some coffee in the blink of an eye.  Need to get a move on?  Drive fast and furious (within the speed limit, of course).
In the professional world of business, technology equals success. And today's technology relies on two things: power and speed. In the greater Aberdeen area, Comcast is working to expand and improve both in their business services.
Comcast Senior Director of Communications, Walter Neary, is proud of the work done by the company so far. "We've been filling out Aberdeen for some time at the request of the local business community and now the vast majority of the commercial area can enjoy the benefits of Comcast Business," Neary explains.
The U.S. Small Business Administration explains that "As a business owner, it is vital that you understand and use advanced technologies.  Technology can help increase business efficiency and even expand operations." To help businesses thrive, they suggest you "see what's out there—and experiment. You could transform your business into one that is more efficient, with a lower cost base and higher customer satisfaction, than you ever imagined possible just by being creative with today's technology."
According to Neary, the latest Comcast Business expansion was completed throughout the summer and fall of 2016. It incorporated over 30 buildings and more than 35 businesses from the Port Industrial Road to First Street at a cost of approximately $60,000.
Twenty year Comcast employee and lifetime Grays Harbor resident, Aaron Mefford, the Director of Operations in Aberdeen, shares more about the work that has been done in the Port of Grays Harbor area. "We have expanded our high performance network in the area giving businesses access to a wide range of ethernet, internet, wifi and other advanced services," he shares. The impacted businesses include some of the foundational industrial companies in the area including fueling, trucking, manufacturing and electrical organizations.
In a recent statement, Comcast explained that "Comcast Business offers Ethernet, Internet, Wi-Fi, Voice, TV and Managed Enterprise Solutions to help organizations of all sizes transform their business.  Powered by a next-generation, fiber-based network, and backed by 24/7 technical support, Comcast Business is one of the largest contributors to the growth of Comcast Cable.  Comcast Business is the nation's largest cable provider to small and mid-size businesses and has emerged as a force in the Enterprise market; recognized over the last two years by leading industry associations as one of the fastest growing provider of Ethernet services."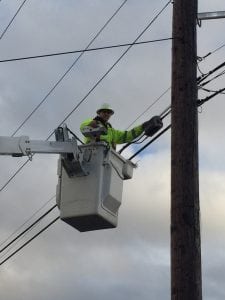 USTelecom, "the nation's leading trade association representing broadband service providers and suppliers" reports that "The broadband industry is bringing extraordinary opportunities to nearly every corner of our country. From job creation to business expansion, high-speed Internet is connecting our nation and driving economic growth."
By bringing increased speed and quality to Grays Harbor County, the Comcast Washington team insures a strong future for our region. "Every day we're in various Washington cities upgrading the network," shares Neary.  "Together with other technology and network deployments since 2010, Comcast will have invested $1 billion in Washington to upgrade reliability and capacity, deploy new gigabit services and reach new residential and business customers. We're delighted to serve cities in Grays Harbor."
Aberdeen Mayor Erik Larson applauds such expansion. "This investment will help grow our local economy by providing more businesses with access to a reliable, high-capacity network, which is an increasing necessity for businesses in the 21st century," he says. "Because of Comcast's commitment to this community, we are confident that our Internet, data and voice needs will be met now and for many years to come."
Visit YouTube to watch an informational video about the Aberdeen expansion, including maps and detailed improvements.  For more information on this project, call 866-429-3085.
"We are proud of the work we have done in the Port of Grays Harbor area in Aberdeen," shares Mefford. "We believe these network based services will help businesses reach their full potential using the latest technologies available."
George Bernard Shaw wryly confessed that "The single biggest problem in communication is the illusion that it has taken place." For local businesses and organizations, fast, professional communication is as easy as picking up the phone, tablet, or mouse thanks to Comcast Business.