Do you have issues falling asleep at night? Are you regularly lying awake resulting in a constant struggle to feel well-rested? If so, you may be one of the 50 million people in the United States alone who struggle with some sort of sleep disorder. More often than not, sleep disorders remain undiagnosed and go un-treated. But getting help may be easier than you may have initially thought at a location close to home.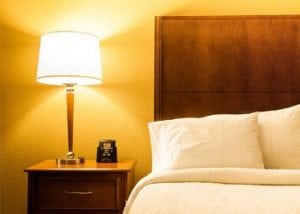 Innovative Sleep Centers in Aberdeen aims to assist the Grays Harbor community in reaching their dreams of regaining a good night's sleep. "Our primary goal is to give people their lives and health back by treating their sleep disorders and helping them regain restorative sleep," expresses Krystle Ramos, provider liaison and marketing coordinator at Innovative Sleep Centers. The recent launch of their all-new website can help bridge the gap for those who may not know they have a sleep disorder and those who may be looking for a way out.
The state of the art website includes a page dedicated to educating readers on all kinds of sleep disorders. With a shocking 85 known types of sleep disorders, the thought of discovering which one you may have can be daunting. On the homepage of the website, there's a questionnaire that can help individuals determine their risk for sleep apnea, one of the most common sleep disorders. Other sleep disorders include excessive daytime sleepiness disorders (like narcolepsy); circadian rhythm disorders (disruptions to the internal body clock, like insomnia); sleep-related movement disorders (restless leg syndrome); and sleep behavior disorders (people acting out while asleep).
Also available on Innovative Sleep Centers' new website are detailed accounts of the services that their facilities offer to patients. Not only does the facility offer consultations and diagnostic testing, there are a wide variety of treatment options including in-lab testing, home-testing, CPAP therapy and non-CPAP alternatives. Their local and friendly staff accepts patients 3-years-old and older and accepts most insurances, so if you, your child or someone you care about is suffering with poor sleep or a lack of sleep, don't hesitate to contact them.
At all Innovative Sleep Centers locations, staff members know how difficult it can be to reach out and discover whether you or someone you know may suffer from a sleep disorder. The website was redesigned to provide the community and local doctors with information and education about sleep disorders, the services offered, and provide updates in the field of sleep medicine through weekly blog posts on the Sleep Health Blog as well as through their social media channels.
"We also have resources for patients and providers such as new patient forms, referral forms and what to expect when you visit our sleep lab," says Krystle. "This is really important in removing fears about having an overnight sleep study." Viewers can also discover the What to Expect page that explains exactly what steps are taken upon reaching out to the facility to begin sleep testing. Additionally, readers can discover what real patients and providers are saying about Innovative Sleep Centers services and results that they see on the Testimonial page. Here, quotes are featured detailing the many triumphs felt by those who have taken the step to diagnose and treat their sleep disorders.
All in all, the new Innovative Sleep Centers website can answer almost every question one may have to begin the journey to a better night's sleep. Not only can sleep disorders severely impact your work performance, health and your family, they can also be dangerous. "We are passionate about the help we provide people in the Grays Harbor and Pacific County communities and love when we hear about success stories of patients whose quality of life has improved dramatically by treating their sleep issues," explains Krystle. "We know that diet and exercise are vital, but sleep is the 3rd key to a healthy lifestyle." In addition to visiting their website, learn more about this local business in Grays Harbor by visiting their Facebook page, Instagram account, Twitter feed, LinkedIn profile and YouTube channel.
Sponsored