Thanks to quick action combined with hours of painstakingly tedious work, 119 cubic feet of photos, negatives, slides, VCR tapes, cassettes, and motion picture film, along with five cubic feet of framed pictures, seven cubic feet of panoramic and oversized pictures and materials of Aberdeen history have been rescued in the wake of the catastrophic fire that destroyed the Aberdeen Museum of History on June 9.
"By and large, most of the materials that we received from the basement of the building – pictures, movies, negatives, documents, and records – are saved. We did not lose much. Although a few things have some soot stains," said Steve Excell, Washington State Archivist.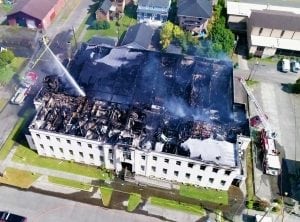 Typically, Excell doesn't recommend individuals store historic documents or family photos in an attic, garage, or basement because of moisture and vermin concerns. However, ironically the location of the Aberdeen historic documents and pictures in the basement of the Armory building is what saved them, despite tremendous – and heartbreaking – losses of artifacts in the floors above.
"We can restore things that are wet, but not things that are burned. Recovering things that are wet is better than recovering nothing at all," Excell explained.
The Tuesday morning after the Saturday fire, the building was considered safe enough to allow employees from the state's Archives Division to salvage all they could, filling up three large trucks with boxes of historic records and pictures. Some of Aberdeen's soaking wet history was taken to a warehouse in Tumwater where employees from the Archives Division as well as the Washington State Library worked tirelessly to beat the clock, working through Father's Day weekend. "We could not let days go by and let mold set in," Excell said.
Other items were rushed to a huge food freezer in Puyallup to arrest the mold process, buying time until workers could get to those documents.
"The amount of time you have to rescue wet items depends on where you are living in the U.S.," explained Excell. "In Louisiana, you have a day or two. Here you have a day or two more. Most everything we got was totally underwater, but when we got them out of water, the clock starts ticking before mold sets in. We made huge assembly lines and just got to work. Every single slide, for instance, needs to be rinsed, washed in chemicals and then dried."
Altogether, 787 hours have been logged into the recovery effort since June 12 – 647.5 from archives employees and the balance by volunteers from the Office of Secretary of State.
"We needed all the help we could possibly get," said Dann Sears, who is the conservationist and archivist for the Aberdeen Museum of History. Sears also served as its executive director for 17 years. "We don't have the facilities to do the extensive drying processes that the state has so we were very fortunate to have them come and help us."
The state has a fully equipped van that stands at the ready for this type of historic emergency, Excell said, noting that they've come to the rescue in similar circumstances, including recovering personal photos and history from homes in the wake of the massive mudslide at Oso in Snohomish County in 2014, and even went through a similar process when the Washington State Archives itself flooded. The Archives and Records Center is a three-story underground bunker-like structure located across the street from Tivoli Fountain near the Capitol in Olympia.
"It's important to save history," said Excell. "These documents and pictures are the story of us, of how we got here. How do you know where you are going if you don't know where you have been? I can't think of anything more important than the story of us."
Now that they are clean, the rescued pictures must be re-humidified and then flattened to take the curls, puckers, and wrinkles out. Also, the eight cubic feet worth of material that was taken to the Puyallup freezer still needs to be recovered.
"Once the restoration process is complete, we will keep everything here in the State Archives until a new museum is built in Aberdeen," Excell said.
Meanwhile, once the fire investigation is complete, Aberdeen museum workers will take salvageable artifacts to the former Goldberg Furniture Store on Wishkah Avenue in downtown Aberdeen as a temporary storage facility and workspace for restoration, said Dave Morris, the museum's current executive director.
"We are waiting to get access to the building to get stuff out and come over and sort and figure out what needs what," Morris said, adding that the losses of the artifacts was enormous.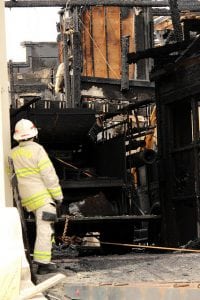 "It's traumatic. I try to take it day by day and not to think about it or dwell on any one thing that was destroyed," Morris said. "We are lucky that some things did survive. While I couldn't go through things yet, as I escorted insurance representatives through the building I did notice a few things – like Sam Benn's display case holding his watch and cane looked like it survived.
"We will rebuild, but where is the question," Morris said. "Right now there are lots of ideas and options and we're working with the city on a new location."
"We are coming up out of the ashes, I tell you," said Sears. "If people have anything that they might want to donate to the new museum – anything pertinent to the history of Aberdeen or even to Grays Harbor, please hold onto it for now. Later we will put out the word that we are accepting donated items, primarily hard artifacts," he said.