The Grays Harbor Tide baseball program will be well presented when players take to the field for the 4th Annual GSL All State Games.

A total of nine Tide players – four from the 12U squad and five members of the Tide's 11U team – have been selected to play in the invitation-only event.
Individuals are chosen for their efforts both on and off the field as a player and teammate during GSL-hosted tournaments. The selection process comes through the consideration of GSL staff and by recommendations from coaches and scouts.
The all state game will be held over two days at SERA Park in Tacoma on August 4-5.
Grays Harbor players appearing in the 12U all state game are Trevon Nichols (third base), Hunter Eisele (outfielder), Charlie Ancich (catcher) and Grant Vessey (first base). Tide players selected to the 11U game are T.J. Dunlap, Christian Morris, Cameron Green, Aiden Baker and Chad Fretts.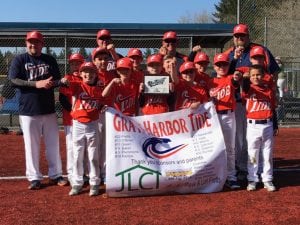 In addition to playing with and against top players from throughout the Pacific Northwest, this year's all state players will be evaluated by GSL staff members for a chance to play with next summer's Northwest Elite Travel Team.
The 12U Tide team finished the season with an 11-6 record, a year after going 17-7, and posted a first place finish in the West Coast Premier Border Wars Tournament in Hillsboro, Oregon – an accomplishment the team's coach labeled as the highlight of the season.
"This team has been a great group of kids to work with. Most of them have been together for the past three years under Mike Brown, who started and managed the Grays Harbor Tide team," said Grays Harbor Tide 12U head coach Ron Nichols, who was joined on the staff this season by assistant coach Chris Eisele. "This group of kids work very hard and put in their time to be able to compete at a high level. Each one of them has good work ethic and a positive attitude. They started workouts in November to be ready for the season, which we finished up the first part of June."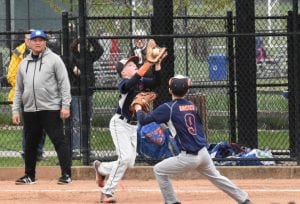 The all state game will kick off a busy nine-day schedule for players Trevon Nichols and Hunter Eisele as both players will also compete for the NW Elite in the 2018 Chesapeake Classic at Cal Ripken Jr. Stadium in Baltimore, Maryland, August 8-13.
The two were selected last year as well to the NW Elite squad, playing in the 2017 Triple Crown World Series in Steamboat Springs, Colorado.
The Grays Harbor Tide 11U team went 30-22 over its season, placing in the top three in seven out of the nine tournaments they appeared in with a trio of first place finishes, three runner-up performances and one third place trophy.
"I have an amazing group of kids. They work really hard. They have completely bought into our program. We truly have an amazing Tide family," Grays Harbor Tide 11U head coach Shawn Fretts said. "They all worked very hard and continued to get better every day. This truly could not have been done without the parents and coaches."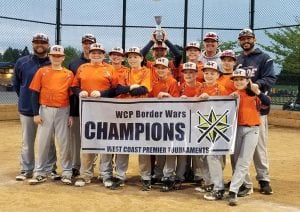 Both 11U Tide players T.J. Dunlap (outfielder/short stop) and Cameron Green (outfielder/pitcher) got a jump on the all-star game atmosphere by also being selected to play for the NW Elite in the 2018 Youth Nationals in Louisville, Kentucky.
"The selection for these kids for Kentucky started with me and my coaching staff recommending the players," Shawn Fretts said. "Then players are watched and evaluated by the tourney staff. Then the selection is done based on position and attributes like pitching and catching."
The week-long event, which also includes a tour of the Louisville Slugger Bat Factory in addition to the tournament, is held July 20 through July 26.