As school winds down and summer gears up, it's time to start thinking how you are going to keep your kids entertained, educated and most importantly, off those screens for at least part of the day. That's where summer camps come in. Camps are a great way for your children to learn new things, make new friends and spend some time outside while you are at work. We have plenty of summer camps in Grays Harbor County for kids with a variety of interests. Be sure to sign up soon, as they fill up fast.
7th Street Kids
For kids all about theater, 7th Street Kids is the place to be! There summer theater program is great for kids wanting to learn more about drama, music and all things stage. Their summer performance will be Matilda – The Musical.  Auditions are being held June 1 for kids 7- to 16-years-old. No prior experience is necessary. Adults must accompany those auditioning. Information on their summer mini-camps will be released soon. To find out more, visit the 7th Street Kids website.
Camp Victory
Camp Victory is held for four days in June for girls, and a three-day weekend in May for boys. The camp is for boys and girls between the ages of 7- to 14-years-old, who are survivors of sexual abuse. It is a free, supportive place to help children heal and thrive in a supportive community. For more information and to register, visit Camp Victory website.
Girl Scouts of Western Washington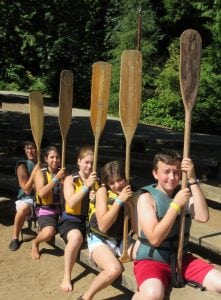 Camp Juliette is the destination for the Grays Harbor Scouts and it's a wonderful place. Older girls will get to choose what activities, crafts and programming will be done during the camp. "This allows the older girls to use the leadership skills they have learned, while the adults help provide the framework and safety so that everyone can have a great experience," the camp website explains. Non girl scouts are welcome! Find out more and register at the Camp Juliette website.
Grays Harbor ORV
The Grays Harbor ORV has an RV Summer Camp that is full of high-fueled fun. For four days, camp at GHORV and learn from several top AMA professionals. Mechanics will be onsite as well. All ages are welcome as long as they have MX skills. They get a wide range of campers, from 5- to 50-years-old. There is dry camping as well as power/water sites. For more information and to register, visit the Grays Harbor ORV website.
Nan-Sea Stables
Why not spend the summer on the back of a horse? For many kids, that's a dream come true at Nan-Sea Stables. While they don't have a true summer camp, they do offer horsemanship lessons where your kid will do chores as they learn all the ins and out of horse ownership – from feeding and mucking out stalls to tacking up and how to ride. Find out more by visiting the Nan-Sea Stables website.
Twin Harbors Branch Skills Center
The Twin Harbors Branch Skill Center offers a range of fun summer programs for teens. All summer classes are free to incoming ninth-twelfth grade high school students in Aberdeen, Hoquiam, Lake Quinault, Montesano, North Beach, Ocosta, Raymond, Sound Bend, Willapa Valley, and Wishkah Valley districts. Classes include construction basics, photography and graphic design, culinary arts, health care basics, automotive technology, and cultivating roots. They are having an open house of May 6, from 6:00 p.m. – 7:30 p.m. at 410 North G Street, Aberdeen. Registration opens May 6. For more information visit the  Twin Harbors Branch Skills Center website.
YMCA of Grays Harbor
The YMCA of Grays Harbor has plenty of fun summer programs for all to enjoy, even the parents! It's definitely worth checking out their brochure, which includes all of the fun classes they have. Then there's Camp Bishop. This summer camp with the Y is full of fun – paddling in Lost Lake, hiking in the forest, and learning archery are all just the beginning. They have camp options for kids in kindergarten up to and including those entering ninth grade. On June 4 they are having information session for those interested, at 6:00 p.m. in the YMCA gym. Otherwise, visit the YMCA of Grays Harbor website for more information and to register.