Antonio Garcia's once vibrant crimson-colored hair has more of a burnt orange tint to it now as the dye continues to fade away.


"Oh, that," the Hoquiam High School senior says before he tousled his hair. "I did that before the state wrestling tournament."
The noticeable hairdo is maybe the last visible evidence of Garcia's wrestling season, and what a fantastic year it was.
After posting a perfect 23-0 record during the regular season, which included a pair of wins over wrestlers who placed at the Oregon state championships and recognition as the WIAA athlete of the week, Garcia finished seventh at the Class 1A state tournament in the 145-pound weight division.
It's a significant accomplishment, but when talking to Garcia about it you're quick to hear the disappointment in his voice.
"Things didn't really go the way I thought they would at state. I felt like I choked," Garcia said. "I really don't like losing."
While his days on the mat are over, Garcia is using his setback at the state wrestling tournament to fuel his motivation on the track, and a motivated Garcia has proven to be a dangerous one in the 110 hurdles, an event Garcia currently holds the second-fastest time in the 1A ranks.
"The goal is to win a state championship," Garcia said. "If I can run a race where I don't hit any hurdles, I think I can do that."
Despite being one of the best in the state, Garcia is still relatively new to the event, and track in general. He didn't turn out until his sophomore year, the result of his older brother not taking no for an answer and pushing his sibling toward the sport.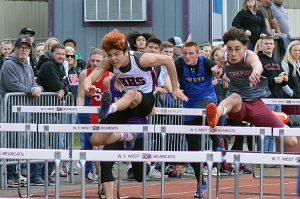 Once Garcia was on the team, though, he admits he wasn't initially fully engaged.
His older brother, Devin Merksick, was a senior in 2017 and went on to win the state high jump championship. That same year, Garcia simply went through the motions, unsure of his place on the team.
"The past three years coaching Antonio has been a journey," Hoquiam track coach Tim Pelan said. "When he started with me as a sophomore, he was immature and not focused. Last year you could see a change in him. He started taking things more seriously and has steadily improved. He came into track thinking he was a wrestler, but found out he was a great track athlete."
Garcia's improvement started midway through last year, and he can pinpoint exactly why he suddenly possessed the desire to change.
"I just kept losing. At meets I would finish fifth or sixth and I just got sick of it," Garcia said. "So, I decided I was going to start pushing myself in practice and started taking it seriously."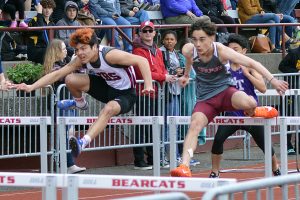 It didn't take long for results to materialize as Garcia constantly was able to trim his time in the 110 hurdles. He won the 1A Evergreen championship and finished second at the district championships before heading off to the state meet last year. It was there where Garcia finally realized, this was an event he was good at.
"It wasn't until I made it to state last year that I knew," Garcia said. "In the prelims, I was running against the top guy in the state, and my time ended up dropping a lot. I like having that competition. I need it to push me."
Garcia finished fifth at the state meet in 2018, setting the stage for this year.
"Antonio's improvement has been fun to watch," Pelan said. "There are not many kids that I've coached in 20 years that can just go try a track event and excel at it. He has competed in eight different events over the last three years and has done well in all. Sometimes it is hard for him to focus on any one event. Thankfully he has with the hurdles."
Through the first half of his senior season, Garcia has competed five times in the 110 hurdles, winning all five races, including victories at the Rainier Icebreaker Invitational, Grays Harbor All County Meet and Chehalis Activators Classic.
It was at the latter where Garcia's best time occurred. He nipped W.F. West's Connor Russell to win the event in a time of 15.25 seconds. That mark currently sits as the second-best time in the event among all 1A state competitors, only trailing the 14.93 set by Meridian's Harlon Stuit, the defending state champion.
"Looking back, I wish I would have put my full effort into the hurdles like I am doing now," Garcia said. "Coach Pelan and coach (Phil) MacNealy have really helped me a lot. They've really pushed me. They help get me mentally where I need to be."
After closing out the regular season in early May, Garcia and his Hoquiam teammates will head to the 1A Evergreen League Championship meet at Montesano High School on May 9 with top placers advancing to the district championships. The 1A state championships will be May 23-25 at Eastern Washington University.