By now, we all know the craze and sometimes obsession that Instagrammers put into capturing the perfect photo to post to their coveted social media account. Whether it's a snapshot of stunning architecture or beautiful scenery, it's undeniable that people put a lot of thought into what they're going to share with the over one billion users worldwide. While visiting Aberdeen on the Washington coast, add these Instagram-worthy spots to your itinerary for all of the best photos in town.
CakeCakes Bakery: This local bakery in downtown Aberdeen whips up delicious, innovative recipes that are baked fresh daily. The oozing chocolate sauce dripping from a cupcake is sure to make for a sweet photo, or perhaps snap a shot of you, your family and friends indulging in one of their tasty treats.
Sam Benn Park: Surrounded by beautifully crafted homes of the timber barons from the early 1900s, Sam Benn Park is a nature lover's paradise. Named after the founder of Aberdeen, a large sculpture of the park's namesake stands near the entrance. The towering trees throughout the park are the perfect backdrop to photograph your friends playing disc golf or a round of tennis. If you're hoping to freshen up your Instagram feed with some adorable candid photos of your children at play, the unique play equipment is just the place to bring a smile to their face.
Aberdeen Murals: Public murals first began popping up throughout Aberdeen during the state's Centennial. The Murals on the Map project works to restore, document, and create new murals throughout the downtown corridor, so on each visit to the city, you might just walk around the corner and discover a new mural to photograph. A few mural themes that you might run into today include: Kurt Cobain, a colorful kelp forest or a depiction of the history of transportation throughout Grays Harbor.
Driftwood Playhouse: History abounds at the Driftwood Playhouse. Being home to the Driftwood Players for over 60 years, and formerly Aberdeen's Christian Science Society, the building has been a welcoming place for many years. Even if there may not be a play taking place when you visit, the outside of the theater features ornate architectural details reminiscent of early 1900's Pacific Northwest building style. The large pillars reflect a status of wealth that encompassed the city during the turn of the century logging boom. Food and drink photos are great, but distinctive architectural design is something that's hard to replicate on social media.
Lake Aberdeen: Take a step into nature and have your camera at the ready! Lake Aberdeen offers a tranquil escape from busy city life and is a beautiful recreational area complete with five acres of developed land to explore. There are plenty of opportunities to practice your macro photography skills – wild flowers, insects, wildlife, beautiful greenery, and of course the lake. Pack a picnic and unwind in the grassy areas surrounding the water and easily create a scenic backdrop for a perfect photo-op.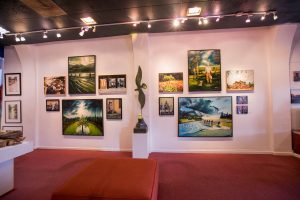 Aberdeen Art Center: Unique pieces of art always make for a great Instagram post. Alder Grove Gallery in downtown Aberdeen offers a mix of contemporary, urban and traditional art pieces masterfully crafted by coastal Washington artists. With new exhibits on display every two months, making a trip back multiple times a year is a wise decision.
Kurt Cobain Sites: As locals and visitors enter Aberdeen from the east, it's hard not to notice the large "Welcome to Aberdeen" sign reading, "Come as You Are" just off of the Highway 101. A small turn off parking area on the right-hand side gives eager fans a chance to pull out and capture a memorable Nirvana inspired photo. For those in search of even more Kurt Cobain related locations in the legendary singer's hometown, head to Kurt Cobain Park. Positioned right next to the muddy banks of the Wishkah River, rumors tell tales that the nearby bridge was frequented by Cobain during the '80s. Snap an Instagram-worthy shot in front of the graffiti art that's been left by fans from around the world. Visit our Five Places in Aberdeen to Find the Spirit of Kurt Cobain article for more locations such as these.
Lady Washington and Hawaiian Chieftain: Although these tall ships are not always docked at their homeport of the Grays Harbor Historical Seaport, when they do make an appearance, it's worth the drive to pay them a visit. These massive replicas of ships from the 1700s are best appreciated on the water. Take part in an Adventure or Battle Sail and enjoy this exciting opportunity to photograph the ships in motion, firing mock cannons at one another while the sea breeze billows in their sails. The crew on board also make for interesting photography subjects as they're usually dressed in traditional sailor uniforms. If taking part in a sailing adventure isn't your cup of tea, be sure to visit these ships while they're docked at the Seaport. Here, visitors have the opportunity to climb on board and take a closer look at the workings of the ships.
Westport Winery: There are over 15 acres of themed display gardens with more in the works at this award-winning winery located just a short drive from the beach. Not only are the wine and food delicious and photo worthy, but the surrounding gardens are a gem in themselves. Local artists were commissioned to create over 60 outdoor sculptures commemorating each of the wines and themed gardens. Meander through the French Formal Garden, Hawaiian Tropical Paradise or English Cottage Garden photographing the gorgeous blooming flowers amongst the sculptures. In addition to the scenic gardens, the outside of Westport Winery is modeled to resemble Westport's Grays Harbor Lighthouse, the tallest lighthouse in the state.
Aberdeen Mansion: Although the Aberdeen Mansion is now a private residence, the exterior of this stately home is a sight to be seen. The vibrant yellow exterior extends throughout the massive structure that was once home to the Hulbert family, one of the wealthiest in Aberdeen in the early 1900s. History oozes from all four floors of this wonderfully constructed 1905 piece of work creating yet another photo opportunity that celebrates the fascinating corners of this city.
Sponsored