Whether you're looking for a home sweet home or home away from home, Ocean Shores is the ideal choice. Jutting between North Bay and the Pacific, it offers miles of canal-frontage and stunning beach-front living. Whether you are looking for commercial, residential, or vacation property, when you're ready to find a new space with plenty of seagulls and salty breezes, let Windermere Ocean Shores be your guide to Grays Harbor real estate.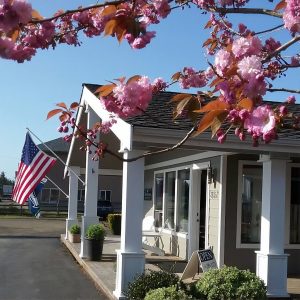 Windermere was founded with a simple goal: "Hire the best people; give them the best tools; create thriving communities." Their Ocean Shores office opened in 1991 and Branch Manager Jim Donahoe loves the region's "natural beauty, friendly small town atmosphere, growing beach communities, tremendous opportunities, and no traffic jams!"
Their office serves buyers and sellers in Ocean Shores, Ocean City, Copalis Beach, Seabrook, Pacific Beach, Moclips, and Tahola who are looking for their first home or retirement bungalow, commercial space or lush timberland. Recently the most visits are from "Part-time visitors for getaway cottages and homes, affordable retirement homes, and anything waterfront are the most popular," admits Donahoe. "I specialize in commercial properties and land for development and have been very busy."
In the industry for many years, Donahoe has lived in the area with his family since 1962. "Seeing the changes that come in cycles has been fascinating to observe. I am convinced that we are in the midst of extraordinary growth up and down the beach. This is a very exciting time! Many visitors don't realize that we have 23 miles of inter-connected fresh waterways and don't realize we have distinct neighborhoods: ocean, bay, lake, canal, golf course, forest lots, and homes."
The Ocean Shores Windermere office has 11 staff members working to help you. "We love to talk to people in person," says Donahoe. "Stop by and you can learn a lot. We have a small team that is very professional."
His primary advice when looking, however, is to identify and work with a professional broker and office and research, research, research. "In today's market the internet is where most home buyers start and follow up with a call or email before they come to Ocean Shores," he says. "We certainly have others who stop by the office to start the learning process."
Whether you reach out in person, by phone, or through email, don't wait too long to act.
Commercial growth in Ocean Shores is as active as residential. "Vacant lot sales have really gone up," says Donahoe, "And numerous builders are coming into the marketplace. Ocean Shores is transitioning into a city that is now is attracting more regional and national retailers."
Looking for ways to learn more about this booming region? TourismOceanShores.com offers detailed directories of restaurants, hotels, shopping, and local organizations. There are also activities galore like fishing, bird watching, horseback riding, golf, kite flying, watersports, and more.
"Next year Ocean Shores turns 50 years old," explains Donahoe, "And a number of committees are working on a year-long celebration. We'd love to have anybody who's been around for a long time email us for ways to contribute." Reach out with your stories, historical memorabilia, or to volunteer with the festivities by calling 360-789-5114 or via jdonahoe@windermere.com.
People move for a variety of reasons. In 2019, real estate trend watchers report growth in areas much like Ocean Shores. "Locations outside of big cities are evolving: In addition to being more diverse, they're also becoming more walkable, with developments that favor density, retail, recreation, and transit access…[And] the 'silver tsunami' of senior housing…will mean a huge flood of seniors looking for a variety of housing options, including active lifestyle living and even upscale urban apartments (especially as many boomers downsize). There are huge implications for housing, both in terms of renovations for those who want to age in place, and new options for seniors looking for a new post-retirement lifestyle."
Buying and selling property can be stressful but with skilled agents like Jim Donahoe and his knowledgeable team, a beach house or ocean-front business is well within your reach. Find featured properties or the complete listings of the Windermere Ocean Shores office by calling 360-289-3373 or stopping in to their office at 837 Point Brown Ave NW. Then sit back and bask in the real-time beach cam to watch rolling waves, passing storms, and waving beach grasses that beckon you out to visit.
Sponsored