The Montesano High School wrestling program has always prided itself on being a family with the athletes being a part of a lasting brotherhood.

This year is no different with the Bulldogs. In fact, the feeling of camaraderie might be at an all time high. And there's a certainly a very understandable reason for that as Montesano's roster features five sets of brothers this season in siblings Cole and Ty Ekerson, Brent and Jesse Hollatz, Jacob and Lucas Salstrom, Nathan and Sean Ryker and twins Isaac and Isaiah Pierce.
It's a close-knit group for sure, but one also not lacking in talent. Six of the brothers are returning state participants, while the other two – Cole Ekerson and Jesse Hollatz – have excelled in their first year with the program and headline a strong freshman class.
Throw in senior Aaron Lano, sophomore Kenny Koonrad and five additional wrestlers who advanced to the state tournament at the Tacoma Dome in 2019 and it's easy to see why expectations are once again high throughout the program.
"All of these kids are important if we want to reach our goals. We need to take the next step in order to be a top 5 team at the state tournament," said Montesano coach Jeff Klinger. "The Ekerson brothers are very dedicated and have impressed all year. Brent and Aaron along with Jacob and Lucas Salstrom have had moments of great wrestling as well. And you cannot overlook the Pierce twins who are as athletic as anyone in 1A."
Despite being a young squad, the Bulldogs have already accomplished one team goal this season by going undefeated in league dual meets to capture the 1A Evergreen League regular season championship. The title-clinching moment came in a 39-37 win on January 21 over Forks, a team that bested the Bulldogs, 55-18, last year.
Now, three goals remain – finishing first as a team at both the league championship tournament, which will be on February 8 at Forks High School, and the Region II tournament at Hoquiam High school on February 15. After that they are once again eyeing a top 10 placing in the team standings at state.
"We prioritize wrestling our best in February," Klinger added.
That's exactly what Montesano has done under Klinger's watch. The Bulldogs placed eighth at the 1A state championships last year, marking the sixth consecutive season Klinger has guided his squad to a top 10 state placing.
Montesano also placed third in 2015, fourth in 2016 and fifth in 2017.
"We are very young with only four seniors on the team. We have had our up and downs this year," Klinger said. "Wrestling is a very trying sport with an emphasis on maintaining one's weight and having to deal with the holiday break. We are still learning and improving. We are trying to become an aggressive team that continually attacks and looks to pin our opponent."
Relatively young, but budding with talent as nine Montesano wrestlers are currently ranked among the top 10 in the 1A classification with Koonrad, who placed seventh as a freshman in the 285-pound division at state last year, holding the team's highest ranking as the state's No. 2 overall heavyweight.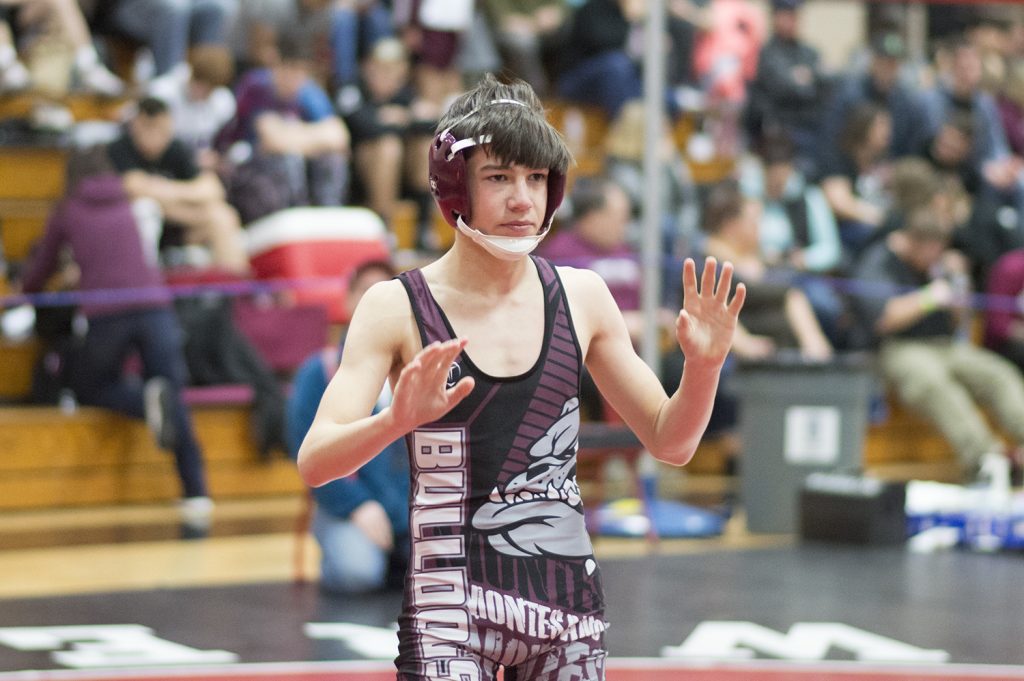 Lano, a two-time state placer, is ranked fourth at 126, while Brent Hollatz is ranked seventh at 182.
"Lano and (Brent) Hollatz have been mainstays in our line-up since they arrived as freshmen. They have definitely been important to the changing culture of Montesano wrestling," Klinger said.
Junior Ty Ekerson currently sits fourth at 145, while Cole Ekerson is No. 6 at 120. However, both should see their rankings rise before the start of postseason due to their impressive performances at the Sgt. Justin Norton Memorial at Rainier High School on January 18.
The brothers notched signature wins to help the Bulldogs finish third at the tournament. Cole Ekerson defeated the state's second-ranked 120 pounder, Devon Gantt of Naches Valley, 7-0, in the championship round. Ty Ekerson, a junior who placed fourth at state in the 113-pound division in 2018, beat Mount Baker's Killian Cronk, the state's top ranked 145-pound wrestler at the time, in the semifinals before pinning Clinton Caeton of Eatonville in the finals.
Montesano also has Jacob Salstrom (seventh, 113), Cooper Johansson (10th, 132), Isaac Pierce (10th, 160) and Isaiah Pierce (10th, 170) ranked in the 1A classification.
"We have a lot of experience and talent on this team," Klinger said. "We need to utilize it if we want to reach our goals."
Seasonal highlights for the team include individual titles at the 41st Annual Grizzly Alumni Invitational at Hoquiam for Lano and Cole and Ty Ekerson and runner-up finishes at the tournament for Lucas Salstrom and Koonrad.
As a team they were team tournament champions at La Center and Lindbergh and posted dominating league dual meet wins over Tenino (69-0), Hoquiam (73-6) and Elma (78-0).