The housing market in Washington has been on a steady increase for some time, but the past year alone has proved to be one of the most significant years in history with the median home price in the state sitting at over $500,000. While Grays Harbor County has always been known as one of the more affordable places to live in the state, Aberdeen's Windermere Real Estate can confirm that prices are on the rise throughout the county and is certainly something for the history books.
According to the National Association of Home Builders, their 2021 Priced-Out Estimates report depicts how higher home prices and rising interest rates are impacting people's ability to purchase new homes. "Right now," states Travis Jelovich, Windermere Real Estate designated broker/owner, "here on the Harbor, there is a historical low in inventory on the market." Coupled with a lower median home cost than in neighboring Thurston and King counties, plus a shift to work-from-home life during the pandemic, Grays Harbor has seen an influx of home buyers from outside the area. According to MSN's Cities with the Fastest Growing Home Prices in Washington article, specifically Aberdeen is the fastest growing city in the metro area with a one year home price change of + 28.3%.
Travis notes how this market is so hot that the limited inventory that is available tends to be swooped up in record time. "Since the Fall of 2020 we really started to notice inventory levels falling," explains Travis. "It normally picks back up in early spring, although we're not seeing that this year. In early March there were just over 20 homes available in the Aberdeen, Central Park and Cosmopolis areas and further east in Elma, there were only two active properties." Travis also mentions how Ocean Shores, which usually carries more inventory than other cities in Grays Harbor, had only 30-40 active homes on the market and over 100 pending properties.
With inventory at historic lows, prices are on the rise and there are multiple examples of houses in the area selling for $30,000-$40,000 over list price. While those in the market to buy are having a difficult time, sellers should be prepared for lots of showings and multiple offers on their property.
"With this current market it is even more important that a seller hire and work with a broker," Travis notes. "Some sellers see a benefit to go the route of for sale by owner, however, this method, especially nowadays, could leave substantial money on the table."
Currently in Grays Harbor prices are up 50.1% in the first quarter of 2021 over the first quarter of 2020. "Locally," states Travis, "people might be very surprised at the value of their property, which is why it's so important to have a broker working for you to make sure you house is priced at the market. Brokers should be providing a comparative market analysis to identify a list price."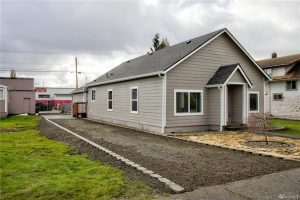 "A professional broker will work alongside you throughout the transaction," he continues. "There are lots of factors that sometimes are not immediately considered when buying or selling. This includes title and escrow, working with a lender, working with an appraiser, along with keeping an eye out for their client's best interest. It is always good to have someone in your corner through the entire process. It can be very overwhelming for a seller when they receive 9-10 offers on their property. My advice is to contact a broker first, whether you are buying or selling" says Travis. "We're here to help our clients make this process easier during this stressful time either as a buyer or seller."
For more information on the current housing market or to inquire about listing or purchasing a property, contact Windermere Real Estate at 360.533.6464.