Every year in late September and early October we celebrate German culture, including music, food and of course, beer. Whether you have German ancestry or not, everyone can get in on the fun of Oktoberfest, which actually started out as a celebration of a wedding in Germany. In the United States, it's become synonymous with German beer and the Chicken Dance. Get your groove on at these 2022 Oktoberfest events in Grays Harbor.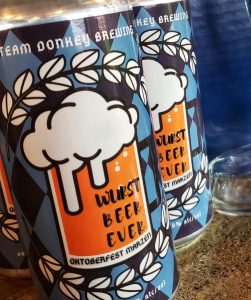 5th Wurst Party Ever
September 17, 12 p.m. – 9 p.m.
Steam Donkey Brewing
101 E Wishkah Street, Aberdeen
Kick off the fall season at Steam Donkey's Oktoberfest in Aberdeen! The 5th Wurst Party Ever is sure to be the most fun you'll have all month! Known for their craft beer, Steam Donkey won't disappoint this year with their 2022 version of their Oktoberfest Marzen beer. Get there early and snag a limited edition, commemorative 20-ounce mug that will be available for purchase while supplies last!
It wouldn't be Oktoberfest without food and fun! Steam Donkey will have some German-themed games, including Hammer-Schlagen, a nail-driving game with very specific rules, including how many hands you can use on the hammer, how high you can swing and what happens if the nail bends! It's just as much fun to watch as it is to play! They will also have stein hoisting and keg lifting competitions.
Hungry? Finch & Bull will be out front of Steam Donkey offering a special menu of German food just for the Oktoberfest celebration. Eat your fill from 2 p.m. to 8 p.m. For more information, visit the Steam Donkey Brewing website.
St. Mary's School Oktoberfest
October 8, 10 a.m. – 2 p.m.
518 N H Street, Aberdeen
If you are looking for an Oktoberfest event the entire family will love, head to St. Mary's School on October 8! Their Oktoberfest in Aberdeen is a wonderful event full of food and fun! There is a Kid Karnival with carnival games, face painting, activities and cotton candy. Entry is free, tickets available to purchase for games.
Everyone will love the homemade bake sale, with all sorts of treats to eat right then, or to take home for later. And it wouldn't be an Oktoberfest without German food! The Outdoor Bites Café will have bratwursts and pretzels, with plenty of sauerkraut.
Try your luck with their raffle! Tickets are available September 15 through October 8 and can be purchased from a St. Mary's student or parent, or at the office. Purchase tickets at Oktoberfest until 2 p.m. Tickets are $2 each and you do not need to be present to win. Winners will be announced live on the St. Mary's School Facebook page. Prizes include:
Lake Quinault Lodge – 2 nights stay for (2) people
Drawing $500 Gift certificate – McHugh's Furniture
Crescent Lake Lodge – 1 nights stay for (2) people
Sol Duc Hot Springs – 1 night stay for (2) people
Drawings $100 Gasoline Gift Card
Drawings $50 Visa Gift Card
Amazon Stick
All proceeds benefit St. Mary's School. For more information call the school office at 360.531.1230 or visit the St. Mary's School Facebook page.