Submitted by Great NorthWest Credit Union
Great NorthWest Federal Credit Union is excited to announce the launch of Buy Local Spend Local, a community investment project that encourages its 17,000+ members to shop at locally-owned businesses. Great NorthWest FCU will randomly reimburse 5 transactions per month of up to $25 each when the member uses their credit union's debit or credit card to complete their purchase at a locally owned business which is enrolled in the program. The program officially launched this month.
Great NorthWest Federal Credit Union has been serving Grays Harbor and Pacific Counties since 1953. Any locally owned business in Grays Harbor or Pacific Counties is eligible to list their businesses for free. Great NorthWest FCU has branch locations in both counties and a branch located inside Walmart in Chehalis. As the program grows, they are hopeful to expand into Lewis County and beyond.
Transactions conducted at any locally owned business enrolled in the program that accepts debit or credit cards are automatically eligible for reimbursement. The credit union hosts a website that will include all actively participating businesses, maps, and businesses can list special offers available to Great NorthWest FCU members. There are additional marketing opportunities available to those businesses as well.
Business owners and managers can enroll in a matter of a couple of minutes and there is nothing else they need to do. The random drawings and tracking are internally done by the credit union so business owners can process transactions as usual and need do nothing besides get listed. On a monthly basis, the credit union will draw from all transactions completed by their cardholders at any listed businesses and refund 5 transactions of up to $25.
Owners of local businesses can visit the website to learn more about how they can include their business in the program for free. Or they can contact Karla Peterson at karla@greatnwfcu.com.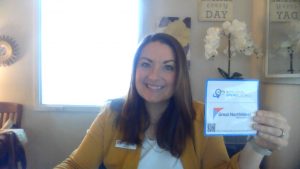 "The pandemic took such a huge toll on local businesses. So many were forced to spend emergency funds to adapt their business models, lay off employees or even close. At Great NorthWest FCU, we recognize that small businesses truly are the backbone of our communities and we are excited to have a program to support that." says Karla Peterson, Marketing & Community Development Manager at Great NorthWest FCU.
According to the U.S. Bureau of Labor Statistics, in Washington State 27% of small businesses were closed during the coronavirus pandemic. Many of those who managed to stay in business, are still left grappling with staffing shortages, supply chain issues and sky-rocketing inflation. "As a local credit union, it's in our DNA to support our communities and we began looking for possible solutions to help these small businesses. Our team members were immediately excited to start telling their local businesses and spreading the word."
"This program really checks all our boxes" says Karla. "Not only are we giving funds back to our members by reimbursing transactions, but encouraging our cardholders to spend their money at their local shop instead of buying online or out of town keeps the funds local. It is a win-win. I would love to see all our local businesses participating."
Currently enrolled businesses in Grays Harbor include Rancho Alegre Meats and Produce, The Taproom, Harbor Blooms, Game Freaks Video Games, The Grand Heron, Organics 101 Market and Deli and more. The team at Great NorthWest FCU is actively reaching out to local businesses to invite them to enroll.
Great NorthWest FCU cardholders are encouraged to visit the website to check out the list of participating businesses. Keep your eye out for our Buy Local Spend Local window clings at local businesses and follow the credit union on Facebook to stay on top of program updates and see the newly featured businesses.
Great NorthWest FCU is a not-for-profit local financial institution. They currently have 5 local branches in Aberdeen, Raymond, Long Beach, Ocean Park and Chehalis (Walmart). Membership is open to all who live, work or worship in Grays Harbor, Pacific, Mason, Lewis, Wahkiakum, Jefferson, Clallam or Thurston Counties. Visit their website or call to speak with a local Member Service Representative at 360.533.9990.
Sponsored