By Justin Damasiewicz
Kyle Scott's career is not a glamorous one, nor is it a path that he chose from a young age. However, as the manager of the City of Aberdeen's Wastewater Treatment Division, Scott is provided with the opportunity to make a positive contribution to the environment and raise his family in the community he calls his home.
In its simplest sense, the Wastewater Treatment Division is responsible for turning untreated, raw sewage into a product that is safe to be discharged into the Chehalis River. The sewage flows to the plant through a network of pumps and close to 90 miles of pipe. Then it goes through several different tanks and filters before being chlorinated, de-chlorinated, and finally pumped out the other end of the plant into the river. Even the solid waste is recycled. After being separated from the liquid, it goes through a process that turns it into substance called "bio-solid", which is sent off to be composted.
"Wastewater is kind of fascinating," Scott said. "Most people don't even know that we're here, let alone what we do. It's good to be able to do something that can make a positive contribution to the environment and the community in general. I enjoy taking people on tours. It's always a big eye-opener for people to see the level of treatment and effort that people have to put in just to discharge the water. Everybody pays their sewer bill, but I don't think many people know what they're getting for their money. We like to try to put cleaner water in (the river) than what's already in there."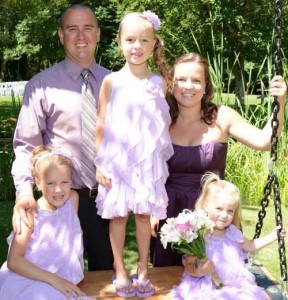 The process of treating wastewater is intricate and primarily monitored by computers. Technology assists in maintaining the plant's permit, which, Scott is proud to say, has had no violations since 2007. Aberdeen's plant boasts one of Washington's longest current streaks without a violation.
"The performance awards are great, but those are because of the people that are working here," Scott said, crediting his team. "I don't turn any valves anymore. I don't turn any wrenches. I'm pushing paper and doing reports. They're the ones that are out there getting dirty."
In addition to their responsibilities at the plant, Scott's crew of 15 people is responsible for installation and maintenance on the entire network of pumps and pipes. They are also responsible for maintaining the city's stormwater pump stations, which is an entirely separate system.
Scott was born at Grays Harbor Community Hospital and raised in Aberdeen. After graduating from Aberdeen High School in 1996, Scott stayed close to home for two years and attended Grays Harbor College (GHC). After graduating from GHC in 1998, the fifth-generation Harborite moved on to Central Washington University (CWU), where he graduated in 2000 with a bachelor's degree in law and justice and a minor in business administration.
After graduating from CWU, Scott returned to Grays Harbor County to continue the summer job that he had held since he was a sophomore in high school with the City of Aberdeen Parks Department. In February of 2001, Scott accepted a full-time maintenance position with the parks department. However, one year later, lay-offs forced Scott into a position on the meter crew in the Aberdeen Water Department. Just a few months later, in the summer of 2002, Scott transferred to an entry level position in the Wastewater Division.
Although Scott admits that he did not have a definite plan after graduating from CWU, he does not regret his decision to return to Aberdeen.
"This is home," Scott said. "My parents are here. My grandparents are here. My wife's family is here. It just made sense for us. There wasn't any sort of magical moment or anything."
While working on the crew at the wastewater treatment plant, Scott took online courses from California State University (CSU). In 2007, Scott earned a Masters Degree in Business Administration from CSU. On January 1, 2008, Scott was promoted to his current position.
"The career that I'm in is easily transportable," Scott said. "There's sewage treatment in every city most everywhere in the United States. I'm happy here. I'm fortunate to have a job here on the Harbor that I can support my family, and I enjoy it."