By Britta Folden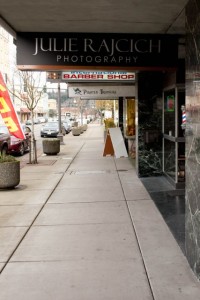 You may have noticed a few changes in downtown Aberdeen within the past year. For one thing, there is now a wine bar. For another thing, I am sitting in this wine bar as I write, enjoying a glass of Cabernet Franc next to a faux fireplace watching the rain pour outside on a Tuesday afternoon. I won't judge you if you stop reading this article immediately and join me for a drink.
There has been a noticeable surge of new businesses in the downtown Aberdeen area. They sit amongst the businesses we've all known for years like Harbor Shoes, Rosevear's, Kaufman Scroggs, Waugh's and Anne Marie's. 2013 brought us a cozy wine bar and tasting room, a shiny new modern restaurant, a stylish photography studio, and a floral boutique. The current year promises even more additions like a cute cupcake shop and the downtown move for Jay's Farmstand.
Could it be there is some contagious entrepreneurial bug in the air? As a business owner myself (ahem, Gray's General Store) in the so called "rival" downtown of Hoquiam (can't we all be friends?), I have been excited to see the successes of Aberdeen recently and am a super fan of many of these businesses.
So, who are these people putting themselves and their livelihoods out on the limb of a once booming, then busting, then searching for a new meaning little coastal town?
Julie Rajcich decided to go full-time with her photography business in the summer of 2013. She had been working part-time out of her home when she came across a downtown space for rent. "I felt like it was time to just make things happen," she explained. Despite her typical avoidance of risk, she didn't want to let the moment pass her by and so quickly signed a lease and began planning her dream photography studio. She enjoys doing commercial photography, so the new business location provided a great opportunity to network and help other local business owners with their needs.
Rajcich Photography space sits next door to the currently under construction CakeCakes Cupcake Shop. Owner, Brittany Figg, started her business two years ago and soon after, she knew she was headed for bigger things than continuing to bake at home under the Cottage Food Law, plus she had a maximum cap on how much she could earn under the law and wanted to reduce restrictions on her growth. She kept an open mind while searching for a new location and eventually connected with the manager of her new space. "I feel so inspired and blessed to be a part of such a lively bunch of new young business people," Brittany shared.
Perhaps some of the most lively are Karen and Ryan Rowe of GH Wine Sellars (yes, I'm still here with my wine) who provide a great space for evening entertainment with friends before a concert at the D&R Theater or after dinner at Rediviva. Though they explored a variety of locations from Westport to Montesano during their four years of planning, they took advantage of the open space in downtown Aberdeen immediately upon finding it. "We were both at a point in our lives where we were ready to do this," explained Karen. The couple opened their doors in 2013 and have had such great success they hope to expand in the future. They took advantage of the free services provided by the Washington State Small Business Development Center located at Grays Harbor College. Under advising from Erik Stewart, they look forward to many new opportunities for growth.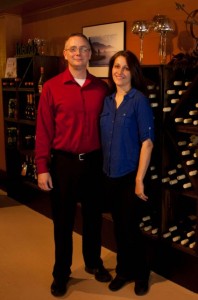 "We are all striving for the same success, not only for ourselves but for Aberdeen as well," explained Brittany. The group of new business owners brought with them a new energy to bring businesses together for a common purpose. "All of the people downtown want to work together," claimed Karen.
A few months ago, they began a new event they call First Friday.  On the first Friday of each month, downtown Aberdeen businesses remain open until 8pm, hosting local area artists and providing shoppers with opportunity to visit businesses whose hours might typically conflict with the common work schedule. Julie added that "promoting each other helps us all succeed which will continually improve downtown."
The upcoming First Friday includes a guided walking tour of downtown buildings. Other events like a wedding showcase and fashion shows are also in the works.
It seems that the story of reviving downtown Aberdeen is one full of passion, partnership and some willingness to just jump in. As Julie so eloquently explained,  "I wanted to enjoy going to work every day and be passionate about what I do on a daily basis. Not a single moment feels like work when I'm in my space… I knew that there would never be 'the right time' and that the best results would come from just diving in and making it happen. I see life flying by and I knew if it wasn't now it could quite possibly turn into never. It wasn't worth the risk."