By Lisa Shell
Do you need a mid-winter get away?  How about a drive to the coast to catch a glimpse of the Pacific Ocean, feel your feet in the sand, eat a meal at the marina and maybe bring home fresh crab for dinner?
Recently, I met a friend in Westport to eat breakfast and buy fresh crab.  We chose the Blue Buoy Restaurant nestled between Deep Sea Charters and Granny Hazel's at the docks in Westport.

We walked into the restaurant and the manager, Erin, welcomed us with a big contagious smile.
The cedar panabode style of the dining room offered a comfortable setting and at our table, by the window, it felt warm and cozy.  Erin, a second generation owner/manager, was our server.   Her parents, Gary and Pat Pedersen, bought A1 Charters and Cafe from the original owners, George and Thelma Black in 1976.  They changed the name to Pete's Crab Pot a few years later.  I remember Erin when she was a little girl.  Her mom and dad operated the restaurant and  guests could peer into a large fish tank,  select a live crab to be cooked fresh and served on a platter.   After Pete's Crab Pot closed, the restaurant was known as Barbara's By The Sea for years.
Erin moved her family back home in 2009 because of the schools and to open up a new restaurant.  She and her sister, Jordyn, launched the Blue Buoy Restaurant in 2010.  When Erin isn't running her business, she is busy raising her family and coaching her daughters's volleyball, basketball or fastpitch softball teams.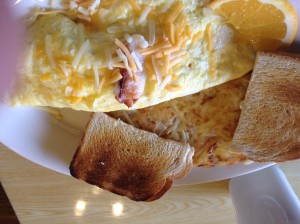 My friend and I looked out the big bay window to see the winter action at the Westport docks – the streets emptied of summer crowds, crab fisherman gearing up for commercial crab season, and a new yacht testing the waters just outside the marina.  We noticed a brand new commercial fishing boat docked for all to see. We ordered coffee and started to catch up on our lives.
Reviewing the menu, I felt nostalgic and my mouth began to water as I conjured a vision of the crab omelet my dad used to cook.   He made the best cheese sauce to drizzle over the top.  We ordered and received our hot breakfast about fifteen minutes later.   It was packed with crab – tasty, hot and soul satisfying.
As we enjoyed the meal, I noticed quite a bit of action over at the old BayFish dock.  The  forklifts whirled around traveling back and forth, stacking crab pots to be  lowered onto the decks of boats.  The deckhands will bait and dump the crab pots overboard. The pots, set under the water, will lure live crab to be caught and sold at the market.
There's nothing like fresh crab meat dipped in hot melted garlic butter. It's divine on a crab louie, or an avocado, crab and cheese sandwich.
This is the perfect time of year to expect fresh crab at local restaurants or seafood markets.  There's a little place on Float 8 that usually has a nice selection of fresh seafood.
My friend and I chatted about the great time we had last year at the Ocosta Booster Club crab feed.  It's a fun way to eat fresh cracked crab and feel good about how the funds support the local community.  More information about this year's crab feed can be found here.  We made a date to attend together.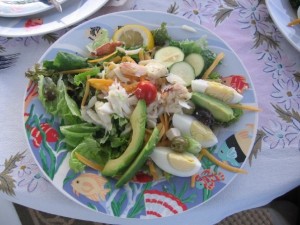 When I drove home, I was reminded that sometimes Westport gets lost in the shuffle between the folks wanting to visit the newest beach town of Seabrook or the tourist standard Ocean Shores.  To this local Harborite, Westport is the original beach town.  As always I was welcomed with a warm genuine greeting and sent off with a full belly, visions of the marina and a bit of fresh caught seafood to cook for dinner!
2323 Westhaven Drive
Westport, WA 98595
360-268-7065
Serving breakfast and lunch daily from 8:00 a.m. – 2:00 p.m.