By Britta Folden

While there are plenty of Grays Harbor residents who enjoy running outdoors, you may have noticed one athlete, often running without shoes on his feet. Mike Curry began running barefoot or in minimalist running shoes with some urging from his doctor. He had enjoyed running track as a youth, but he considered himself "perfectly awful," slow but with good stamina. Running continued as one of his hobbies until just after college when he began to experience chronic knee problems.
After some years, and with the suggestion from his doctor, he picked it up again; this time without shoes. Some claim that running barefoot can be better for joints than running with typical running shoes. Regardless of these claims, the change worked for Mike and he continued to run barefoot. "I'm still not fast, but I haven't had any injuries since switching to barefoot running," he said.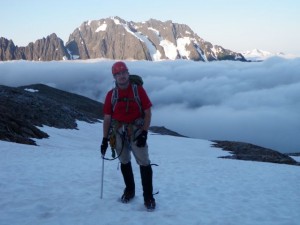 His love for the outdoors leads him on many new running paths, including trail running on local logging roads and occasional races, though he doesn't consider himself a competitive runner. In the last few years, he has also renewed his interest in other outdoor sports like rock climbing and mountaineering. Always looking for a challenge, he joined the Olympia branch of the Mountaineers, where he took training courses to meet fellow climbers who shared a similar passion for the outdoors and adventure.  Today he gives back as a volunteer rock and glacier climbing instructor and climb and scramble leader.
The training he has received led him to various climbing and mountaineering adventures around the Northwest, but he considers the Olympics his favorite. The remoteness of the mountains and the added challenge of some less than great conditions create a unique experience that he enjoys. "Plus the Olympics are the captivating girl next door," he added.  Many climbs start very early in the morning, as early as midnight, and provide the opportunity to test oneself.
Besides his craving for challenges, Mike enjoys the clarity he experiences while doing technical rock climbing. It not only provides a physical challenge, but a mental challenge as well. While "engulfed in the moment, you are so aware of your body and focused on the task at hand, you can't be daydreaming or worried about work," he explained, "there are few opportunities in today's world to be that centered."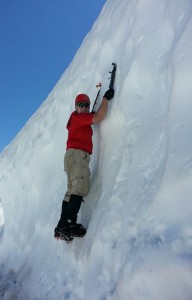 Running also helps him gain mental agility needed for mountaineering. "In the winter, when it's dark, you need the mental fortitude to just put your feet on the ground. It is similar when doing an alpine climb, starting at midnight, when everything is telling you to stay in your sleeping bag just one more hour."
Many of the skills and increased physical and mental abilities gained from running, climbing and mountaineering are beneficial to anyone. He often brings his family along on climbing trips to Leavenworth to enjoy the town and nearby hiking opportunities.  His daughter recently, by her wish, requested her birthday party be held at the Warehouse Rock Gym in Olympia.
He has witnessed amazing scenery, while also achieving great physical and mental goals. Mike encourages anyone who might be interested to contact the Mountaineers for training and information.
"Many of the climbers in the local Olympians hiking club were instrumental in the exploration of climbing in the Olympics," he explained, though interest seems to have waned locally over the years. "There are so many places to explore" here in Grays Harbor.  Mike hopes to see a great return to this outdoor sport.