By Rachel Monroe
With the summer months finally here, it's time to get outside and enjoy the weather! Why not explore the various playgrounds around Grays Harbor for some fun in the sun? A playground is the perfect spot to schedule a playdate with friends, encourage exercise, eat a picnic and soak up the sunshine.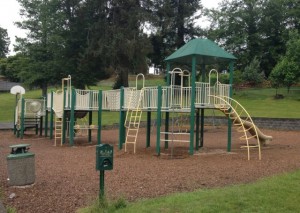 Playgrounds in Montesano & Elma
Friends Landing (300 Katon Road, Montesano) is a 150 acre recreational site located off Devonshire road just outside the city of Montesano. The park offers camping, hiking, fishing and boating opportunities while sporting two playground areas. The first playground can be seen near the entrance of the park. There is a large dinosaur slide, several swings (including an infant swing), and a covered picnic area. Close to the campground is additional play equipment that includes two slides, swings, monkey bars, a tunnel and fire pole.
Lake Sylvia (1812 Lake Sylvia Road N., Montesano), another popular campground and hiking area, also features an up-to-date playground complete with slides, climbing structures and stepping stones. At the top of the play equipment is a telescope enabling kids to look across the lake and surrounding area for wildlife. Close by is beach access to the lake if your kids want to dip their feet in the water or build sand castles. You will need a Discover Pass to visit Lake Sylvia as it is located on state park property. Discover passes can be purchased on site for $30 per year or $10 per visit.
The Kelsey Park inside the city of Montesano off North First Street is ideal for active children who love to climb. There are chain ladders, curved poles and a bouncy bridge.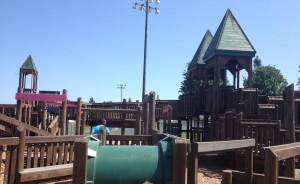 The Gladys Smith Park found on North 10th Street in Elma will keep your kids busy and engaged for hours. Comprised of 10 acres this park features baseball, softball and soccer fields as well as a sturdily-constructed playground filled with castles, bridges, tunnels, balance beams, rope walks and a sand pit.
Playgrounds in Aberdeen
The City of Aberdeen has over 200 acres of land that has been developed for community use. This includes nearly 20 parks for children and families. In an effort to make your family time as special as possible, the Aberdeen Parks and Recreations Department offers "Picnic Kits" that can be rented for a $25 deposit (refunded upon return of undamaged items). Kits include jump ropes, balls, Frisbees, a book of games and much more. Call the Aberdeen Parks and Recreations office to reserve your picnic kit this summer (360-537-3229).
Located at 300 Hanna Ave in Aberdeen, Sam Benn Park is a newly-improved playground with up-to-date equipment. If your kids enjoy climbing, they will love the tall rock wall leading up to a "big-high-tall slide," as my three year old calls it. There are several large toys that move and bounce; a slippery slide made from small tubing; swings for infants and older children; a basketball court, restrooms and grassy slopes for active play.
Finch Playfield, found at 600 W Sumner in Aberdeen, is ideal for kids who enjoy playing in the water on hot summer days. The water park features multiple, ground-based fountains that spray, squirt and bubble. There is also a towering sea serpent that spits a steady stream of water. Parents can turn on the water by activating a button near the water park area. The park also includes small slides and a playground area, ideal for toddlers and preschool age children. There is a merry-go-around, large saucers that kids can swing or relax on, a covered picnic area and basketball court for all ages to enjoy. 
The West End Playfield is a 3.5 acre park located on 2715 Bay Ave. The multi-use sports field offers plenty of room for kids to run and play together. This is an ideal spot for families who enjoy baseball, soccer, tag or other games that require adequate space. Play equipment includes a tunnel slide, climbing wall, ladder and monkey bars. There are picnic tables that can accommodate up to 25 people. 
Playgrounds in Hoquiam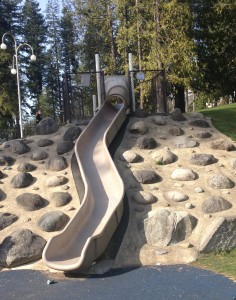 The Art Pocklington Central Playfield is a popular site in the area due to its state-of-the-art play equipment and splash pond. Kids can climb, spin and slide to their heart's content. They can also enjoy a picnic in the covered area and cool off running through the sprinklers and water fountains. The park is located between Emerson Ave and Lincoln Street in Hoquiam and is fenced to keep kids safe from local traffic. There is no parking lot so street parking is the only option, unless you live within walking distance. 
Sonshine Park, adjunct to Immanuel Baptist church on Soule Ave is a well-maintained playground providing neighborhood kids and local families with a picturesque spot to enjoy the outdoors. The large playground features double-sided climbing walls, pods to jump and hop on, sturdy swings and a special swing for handicapped children.
Venture out and have some fun this summer with your kids!