It started innocently enough. Joan Hurst saw a hen in a nesting box at a garage sale. "I'd like to do that," she thought. Now she and her partner, Terry Gentry, have laying hens on their 20-acre farm in McCleary. The colorful hens roam around the grounds during the day and return to the safety of the coop by night. Yes, they love their fresh eggs, and their business G&H Pastured Poultry sells them, but that is not the whole story. For seven months of the year Hurst and Gentry raise broilers and fully immerse in 'all things chicken.'
They weren't always living their dream of being 'gentle rancher women.' In 1997, Joan and Terry were living and working in California. They often visited family in Washington and were encouraged to move to the state. "We knew we wanted acreage," remembers Joan. During one trip, they found the property in McCleary, which was basically, as Joan said, "a big mess." It was land without any improvements. While they still lived in California, they worked on projects and made incremental progress. The septic service was installed. A barn was built. They also put up an apartment to occupy when they would (eventually) build their house. Greenhorn Ranch was taking form.
Joan had been a letter carrier for 25 years and continued as a union representative for 11 years. She finally retired from the U.S. Postal Service. Terry was an operating room nurse in emergency. When the time was right, they sold their houses in California and moved onto their property. With substantial help from the WSU Extension, they learned about sustainability and options for their farm. They had their first chickens in 2011, and found egg-laying chickens to be entertaining, as well as productive. With their environmental and animal concerns about typical commercial production of meat chickens, Joan and Terry soon decided to raise their own.
The first types were Cornish cross and colored rangers breeding stock. The popular, industrial Cornish Cross grew to 6 pounds in six weeks with breasts so heavy they could hardly move. G&H prefers the colored rangers, even though they grow more slowly and are smaller. However, these birds are naturally suited to life in the pasture. They are said to provide succulent meat with more omega-3 fat than faster growing breeds. You'll taste the difference. G&H Pastured Poultry's chickens are raised in the Joel Salantin method with mobile pens. Their birds are raised without eating soy or GMO (genetically modified organism) products. They are also raised without antibiotics. After processing, the blood and feathers are all composted.
G&H Pastured Poultry maintains a relentless schedule for seven months as ten separate flocks are moved, watered and fed every day.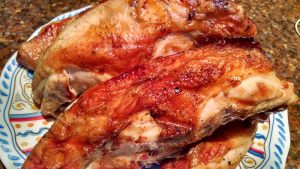 Each week Joan picks up 50 day-old chicks at the post office. They'll spend the next two weeks in the brooding barn. It's a warm and safe place for the little birds to grow. In the third week, they move to a partially heated and protected area, as they get acclimated to life outside. During week four, the flock moves into the pasture where they live in a large enclosure that is moved every day. This offers them fresh grass and grubs to enjoy with the additional organic feed they receive.
One night each week the oldest group is processed for sale at the market and to customers who come to the farm. The meat is not frozen at that time. They built their own on-site processing building and are licensed and inspected by the WSDA to process and sell poultry. You can purchase whole birds or packages of breasts, thighs or wings. There are also packages of necks and chicken feet for stock and organ meats like livers, gizzards and hearts.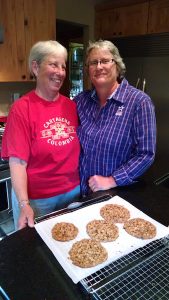 Because winters here are too wet and cold for the chickens to be outside, G&H Pastured Poultry suspends operations until spring. Instead, that's the time of year Joan and Terry find time to do farm maintenance, read, travel and relax a bit.
You can meet the industrious team at the West Olympia Farmers Market, which is their newest retail outlet. They have a limited supply, so call ahead to make sure you get what you want.
G&H Pastured Poultry is pleased to be a supplier of thoughtfully raised chickens. They believe that "knowing how your food is raised, fed and handles only enriches its value." You can schedule a tour of the farm. Then you'll likely meet the dogs, Fergie and Jules, and the horses and pigs. See the goats, Friday and Sassy, who are active mowers.
The gentle rancher women are deep into farm life with their horses, dogs, pigs, and chickens. It's their lifestyle: eating real food, getting close to the land, and knowing how their food was raised and processed before it arrived on the plates. They want other people to eat wonderfully well, too.
Eat Well – Be Well