The Kool Katz & Dawgs pet boutique in Ocean Shores might appear diminutive from street view but what it contains is a muscular, colorful ark-load of pet products.
A store catering to cats and dogs is irresistible to passing pet owners and curious pedestrians on the way to The Peppermint Parlor or drawn to the neighboring Paw Patch Pet Grooming and Doggie Day Care.
Whatever way one comes to this kindly establishment, owner Michelle Balderson is there with a ready smile and enthusiasm for pets and their owners. A bond is established immediately via a shared pet love too obvious not to notice.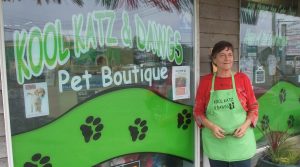 Before moving to Ocean Shores with her husband, Michelle's career background was in accounting and insurance. She also worked in their business ventures including rental units, laundry and dry cleaning.
"We moved here in 2002 to 'retire' and enjoyed being snowbirds for several years," she said. But she came to employment at the store in 2006 with the original owner, Monica Barber, eventually managing it during the summers and Barber's snowbird winter departures.
"I enjoyed it so much that I bought the shop from her in April 2009," Michelle said. "I moved the store to a more dog friendly site in November 2009 and added more items. I love dealing one-on-one with people and their pets."
Michelle prides her store as the "one-stop-shop for all pet supplies, toys and clothing in Ocean Shores" that has always been a woman-owned business.
The store's inventory is well stocked to meet customer demands with emphasis on safe, healthy and durable products. There is also a gift and pet art selection by local and regional artists
The mandatory pet needs such as leaches, collars, no-choke harnesses, grooming supplies, food and water dishes, beds and scratching posts for the feline are found, along with enticing and entertaining toys.
Michelle's awareness of owner concerns for pet health has increased through her business experience.  She has factored it into the careful consideration of food and treat lines maintained at Kool Katz & Dawgs.
The result of such evaluation assure customers that the quality of pet nutrition remains foremost in the products sold with all-natural ingredients meeting the highest market standards for safety and pet consumption.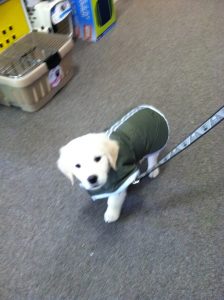 Michelle keeps a variety of food and treats in stock, ranging from grain-free blends to those without soy or corn. She explains that many pets are allergic to food containing these additives. Also her chews are not made of rawhide that is indigestible and can wrap around an animal's intestine. She only carries round bones that do not splinter.
"We want to be a fun place to come and we want to give helpful hints for different things like how to stop a dog's chewing. We care about our customers and our pets that come in," Michelle said about answering customer inquiries.
The goal for her shop has always been treating all customers the way she would want to be treated, provide accurate product information and help solve pet problems.
As for the future, Michelle has put the store up for sale but that doesn't mean the shop is going away or that she is removing herself from the pet business, to the contrary.
When it comes to pet attire, she stocks a full array of choices in manufactured outfits for animals from 1 to 150 pounds. Included in that category of supply, however, is Michelle's true passion and pet-product-forte, custom and handcrafted clothing.
"Right now the store is up for sale so I can concentrate on my pet clothing line, 2nd Coat Design," she said. "I want to see another owner continue with the store, so I have no plans on closing the store."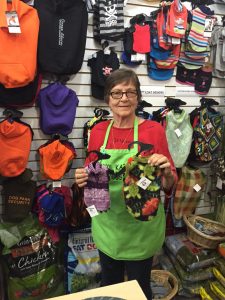 As it stands, Michelle spoke of offering the largest line of pet coats, sweaters, and dresses that she has seen anywhere. Last year, she handcrafted over 250 custom pieces of apparel.
"I do two kinds of coats," Michelle explained. "What they call a Barn Coat that has Velcro around the neck and tummy and I do hand knits. Most of my hand knits are one of a kind."
Michelle's preferred material for the coat is fleece.
"What I like about fleece is it's machine washable and dry. Fleece wicks water so they're not totally rain proof in a downpour. I also put harness holes in my coats," Michelle said.
Her special order attire can incorporate requested design patterns such as Seattle Seahawks motifs.
So with the upcoming changes in Michelle's business path, the good news for her loyal customer base and the visiting tourist pet owner is Kool Katz & Dawgs will remain open for business in Ocean Shores with a tasty treat at hand for every accompanying pet. No purchase necessary.